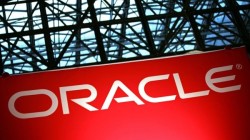 Oracle Corp. (NASDAQ: ORCL)'s stock had its "neutral" rating restated by Wedbush in a research note issued on Friday, StockRatingsNetwork reports. They currently have a $36.00 target price on the stock. Wedbush's price objective would indicate a potential upside of 8.40% from the company's current price.
The analysts wrote, "ORCL missed 4Q revenue expectations by about $160M (about 150 bps), largely on weak licenses…Despite ORCL's 3Q miss, this miss shocked us. ORCL rarely misses a 4Q, and the company had set expectations for growth to decelerate…We think the miss stems primarily from a weak global demand environment, and secular pressures on ORCL's on-premise applications business due to SaaS competition."
ORCL has been the subject of a number of other recent research reports. Analysts at Barclays Capital reiterated an "overweight" rating on shares of Oracle Corp. in a research note to investors on Thursday, June 13th. They now have a $38.00 price target on the stock. Separately, analysts at Societe Generale reiterated a "hold" rating on shares of Oracle Corp. in a research note to investors on Wednesday, June 12th. They now have a $36.50 price target on the stock. Finally, analysts at Thomson Reuters/Verus downgraded shares of Oracle Corp. from a "buy" rating to a "hold" rating in a research note to investors on Monday, June 10th.
Two equities research analysts have rated the stock with a sell rating, thirteen have given a hold rating, twenty-one have given a buy rating and one has assigned a strong buy rating to the company's stock. The company currently has an average rating of "Buy" and a consensus target price of $37.28.
Shares of Oracle Corp. (NASDAQ: ORCL) traded down 7.86% during mid-day trading on Friday, hitting $30.60. Oracle Corp. has a one year low of $26.69 and a one year high of $36.43. The stock's 50-day moving average is currently $33.85. The company has a market cap of $144.1 billion and a P/E ratio of 15.46.
Oracle Corp. (NASDAQ: ORCL) last posted its quarterly earnings results on Thursday, June 20th. The company reported $0.87 EPS for the quarter, missing the Thomson Reuters consensus estimate of $0.88 by $0.01. The company had revenue of $10.96 billion for the quarter, compared to the consensus estimate of $11.12 billion. During the same quarter in the prior year, the company posted $0.82 earnings per share. The company's quarterly revenue was up .1% on a year-over-year basis. Oracle Corp. has set its Q1 guidance at $0.56-0.59 EPS. On average, analysts predict that Oracle Corp. will post $2.68 earnings per share for the current fiscal year.
The company also recently announced a quarterly dividend, which is scheduled for Friday, August 2nd. Stockholders of record on Friday, July 12th will be paid a dividend of $0.12 per share. This represents a $0.48 annualized dividend and a dividend yield of 1.45%.
Oracle Corporation is a provider of enterprise software and computer hardware products and services. The Company's software, hardware systems, and services businesses develops, manufactures, markets, hosts and supports database and middleware software, applications software, and hardware systems, with the latter consisting primarily of computer server and storage products.