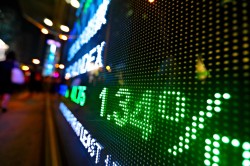 South Plains Financial (NASDAQ:SPFI) is scheduled to announce its earnings results before the market opens on Friday, January 24th. Individual interested in listening to the company's earnings conference call can do so using this link.
South Plains Financial (NASDAQ:SPFI) last announced its earnings results on Thursday, October 24th. The company reported $0.45 EPS for the quarter, beating the Zacks' consensus estimate of $0.35 by $0.10. South Plains Financial had a net margin of 13.56% and a return on equity of 11.04%. The business had revenue of $40.68 million during the quarter.
SPFI opened at $20.93 on Wednesday. The firm's 50 day simple moving average is $20.47 and its two-hundred day simple moving average is $17.90. South Plains Financial has a 1-year low of $15.82 and a 1-year high of $21.29. The company has a current ratio of 0.96, a quick ratio of 0.94 and a debt-to-equity ratio of 0.56.
The firm also recently disclosed a quarterly dividend, which will be paid on Monday, February 10th. Stockholders of record on Monday, January 27th will be given a dividend of $0.03 per share. This represents a $0.12 dividend on an annualized basis and a dividend yield of 0.57%. The ex-dividend date of this dividend is Friday, January 24th.
Separately, ValuEngine upgraded South Plains Financial from a "sell" rating to a "hold" rating in a research note on Wednesday, October 2nd.
About South Plains Financial
There is no company description available for South Plains Financial Inc
See Also: Support Level
Receive News & Ratings for South Plains Financial Daily - Enter your email address below to receive a concise daily summary of the latest news and analysts' ratings for South Plains Financial and related companies with MarketBeat.com's FREE daily email newsletter.