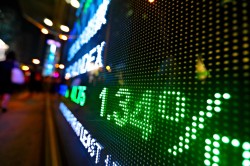 Barings BDC Inc (NYSE:BBDC) announced a quarterly dividend on Tuesday, October 29th, Zacks reports. Stockholders of record on Wednesday, December 11th will be paid a dividend of 0.15 per share on Wednesday, December 18th. This represents a $0.60 annualized dividend and a dividend yield of 5.78%. The ex-dividend date of this dividend is Tuesday, December 10th. This is a positive change from Barings BDC's previous quarterly dividend of $0.14.
Barings BDC stock opened at $10.38 on Friday. The stock's 50 day moving average price is $10.29 and its 200 day moving average price is $10.04. The firm has a market capitalization of $531.98 million, a PE ratio of 16.49, a price-to-earnings-growth ratio of 3.31 and a beta of 0.68. The company has a debt-to-equity ratio of 1.10, a quick ratio of 4.64 and a current ratio of 4.64. Barings BDC has a one year low of $8.70 and a one year high of $10.48.
Barings BDC (NYSE:BBDC) last issued its quarterly earnings data on Tuesday, October 29th. The company reported $0.16 earnings per share (EPS) for the quarter, meeting the Thomson Reuters' consensus estimate of $0.16. The company had revenue of $19.30 million during the quarter, compared to the consensus estimate of $20.34 million. Barings BDC had a net margin of 6.67% and a return on equity of 5.48%. On average, analysts forecast that Barings BDC will post 0.63 earnings per share for the current fiscal year.
In other Barings BDC news, insider Thomas F. Finke purchased 8,000 shares of Barings BDC stock in a transaction that occurred on Wednesday, November 20th. The stock was purchased at an average price of $10.30 per share, with a total value of $82,400.00. Following the completion of the acquisition, the insider now owns 10,000 shares of the company's stock, valued at approximately $103,000. The purchase was disclosed in a document filed with the Securities & Exchange Commission, which is accessible through
the SEC website
. Corporate insiders own 0.29% of the company's stock.
BBDC has been the subject of several analyst reports. Zacks Investment Research downgraded shares of Barings BDC from a "hold" rating to a "sell" rating in a research note on Tuesday, October 1st. TheStreet raised shares of Barings BDC from a "d+" rating to a "c-" rating in a research note on Friday, November 29th. ValuEngine lowered shares of Barings BDC from a "buy" rating to a "hold" rating in a report on Tuesday, December 3rd. Finally, National Securities began coverage on shares of Barings BDC in a report on Wednesday, October 23rd. They issued a "neutral" rating and a $10.00 price objective on the stock. One research analyst has rated the stock with a sell rating, two have issued a hold rating and two have issued a buy rating to the stock. Barings BDC has a consensus rating of "Hold" and an average price target of $10.40.
Barings BDC Company Profile
Barings BDC, Inc (NYSE:BBDC) is a business development company specializing in private equity and mezzanine investments. It focuses on leveraged buyouts, management buyouts, ESOPs, change of control transactions, acquisition financings, growth financing, and recapitalizations in lower middle market, mature, and later stage companies.
Further Reading: What is Green Investing?
Receive News & Ratings for Barings BDC Daily - Enter your email address below to receive a concise daily summary of the latest news and analysts' ratings for Barings BDC and related companies with MarketBeat.com's FREE daily email newsletter.