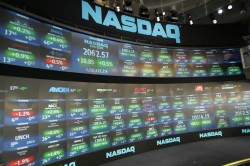 Stabilis Energy (NASDAQ:SLNG) Director Jch Crenshaw Holdings, Llc acquired 11,000 shares of the firm's stock in a transaction dated Monday, November 18th. The stock was bought at an average price of $4.88 per share, for a total transaction of $53,680.00. Following the acquisition, the director now owns 11,000 shares of the company's stock, valued at approximately $53,680. The purchase was disclosed in a filing with the Securities & Exchange Commission, which is accessible through this hyperlink.
Shares of SLNG traded down $0.01 during trading hours on Friday, hitting $4.80. The company had a trading volume of 1,255 shares, compared to its average volume of 38,424. Stabilis Energy has a 52-week low of $3.20 and a 52-week high of $13.76.
Stabilis Energy (NASDAQ:SLNG) last released its quarterly earnings data on Wednesday, November 13th. The company reported ($0.22) EPS for the quarter. The firm had revenue of $10.51 million during the quarter.
About Stabilis Energy
Stabilis Energy, Inc provides small-scale liquefied natural gas (LNG) production, distribution, and fueling services to various end markets in North America. It offers LNG fuel for high-horsepower equipment that drives drilling and fracturing operations; and fuel solutions to industrial users of diesel and other crude-based fuel products.
Featured Article: What are the risks of holding treasury bonds?
Receive News & Ratings for Stabilis Energy Daily - Enter your email address below to receive a concise daily summary of the latest news and analysts' ratings for Stabilis Energy and related companies with MarketBeat.com's FREE daily email newsletter.