The Carlyle Group LP (NASDAQ:CG) announced a quarterly dividend on Thursday, October 24th, Fidelity reports. Shareholders of record on Tuesday, November 12th will be paid a dividend of 0.31 per share by the financial services provider on Tuesday, November 19th. This represents a $1.24 dividend on an annualized basis and a dividend yield of 4.51%. The ex-dividend date of this dividend is Friday, November 8th.
Shares of NASDAQ:CG traded down $0.50 during trading hours on Wednesday, reaching $27.48. The stock had a trading volume of 99,858 shares, compared to its average volume of 822,280. The Carlyle Group has a 1 year low of $15.09 and a 1 year high of $28.20. The firm's 50 day moving average is $26.44 and its 200-day moving average is $23.30. The company has a debt-to-equity ratio of 1.97, a quick ratio of 2.90 and a current ratio of 2.90. The stock has a market capitalization of $3.28 billion, a price-to-earnings ratio of 10.43 and a beta of 1.72.
The Carlyle Group (NASDAQ:CG) last announced its quarterly earnings data on Thursday, October 31st. The financial services provider reported $0.41 EPS for the quarter, beating the Zacks' consensus estimate of $0.40 by $0.01. The Carlyle Group had a net margin of 16.19% and a return on equity of 4.48%. The company had revenue of $527.80 million for the quarter, compared to the consensus estimate of $514.55 million. During the same period in the prior year, the firm posted $0.56 EPS. The company's quarterly revenue was down 17.7% compared to the same quarter last year. Analysts forecast that The Carlyle Group will post 1.66 EPS for the current year.
In related news, CAO Pamela L. Bentley sold 20,000 shares of the stock in a transaction on Friday, September 20th. The shares were sold at an average price of $26.69, for a total transaction of $533,800.00. Following the completion of the sale, the chief accounting officer now owns 113,660 shares in the company, valued at approximately $3,033,585.40. The sale was disclosed in a document filed with the SEC, which can be accessed through
the SEC website
.
A number of brokerages have commented on CG. ValuEngine downgraded shares of The Carlyle Group from a "buy" rating to a "hold" rating in a research report on Wednesday, October 2nd. Canaccord Genuity raised shares of The Carlyle Group to a "buy" rating in a research report on Thursday, October 31st. TD Securities lowered their target price on shares of The Carlyle Group from $14.50 to $14.00 and set a "hold" rating for the company in a report on Thursday, October 31st. Deutsche Bank set a $27.00 target price on shares of The Carlyle Group and gave the company a "hold" rating in a report on Friday, November 1st. Finally, Raymond James restated an "outperform" rating and issued a $14.50 target price on shares of The Carlyle Group in a report on Thursday, October 31st. Ten investment analysts have rated the stock with a hold rating, seven have issued a buy rating and one has given a strong buy rating to the stock. The Carlyle Group presently has a consensus rating of "Buy" and an average price target of $20.34.
About The Carlyle Group
The Carlyle Group L.P. is an investment firm specializing in direct and fund of fund investments. Within direct investments, it specializes in management-led/ Leveraged buyouts, privatizations, divestitures, strategic minority equity investments, structured credit, global distressed and corporate opportunities, small and middle market, equity private placements, consolidations and buildups, senior debt, mezzanine and leveraged finance, and venture and growth capital financings, seed/startup, early venture, emerging growth, turnaround, mid venture, late venture, PIPES.
Recommended Story: Calculate Your Return on Investment (ROI)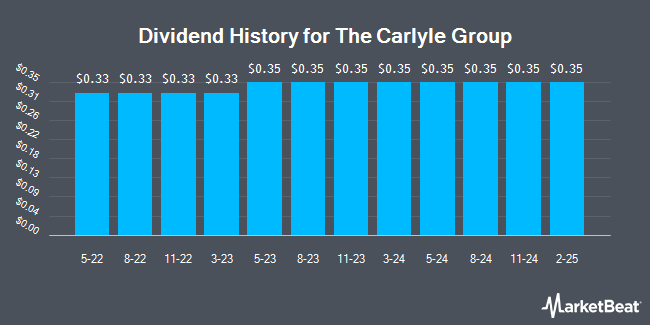 Receive News & Ratings for The Carlyle Group Daily - Enter your email address below to receive a concise daily summary of the latest news and analysts' ratings for The Carlyle Group and related companies with MarketBeat.com's FREE daily email newsletter.