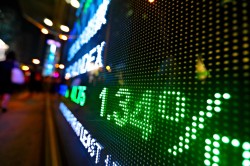 Apex Global Brands (NASDAQ:APEX) will release its earnings data after the market closes on Tuesday, September 17th. Persons interested in participating in the company's earnings conference call can do so using this link.
Apex Global Brands (NASDAQ:APEX) last issued its quarterly earnings data on Tuesday, June 18th. The company reported ($0.15) EPS for the quarter. Apex Global Brands had a negative return on equity of 20.47% and a negative net margin of 49.15%. The business had revenue of $5.05 million for the quarter.
Shares of NASDAQ APEX opened at $0.67 on Monday. Apex Global Brands has a 12 month low of $0.40 and a 12 month high of $1.25. The company has a current ratio of 0.69, a quick ratio of 0.69 and a debt-to-equity ratio of 4.12.
Apex Global Brands Company Profile
Apex Global Brands Inc, a brand ownership and marketing company, creates and manages lifestyle brands worldwide. The company's brand portfolio that spans multiple consumer product categories and retail tiers includes Hi-Tec, Magnum, 50 Peaks, Interceptor, Cherokee, Tony Hawk, Liz Lange, Point Cove, Carole Little, Everyday California, and Sideout.
Featured Article: How does a dividend reinvestment plan work?
Receive News & Ratings for Apex Global Brands Daily - Enter your email address below to receive a concise daily summary of the latest news and analysts' ratings for Apex Global Brands and related companies with MarketBeat.com's FREE daily email newsletter.