Pedevco Corp (NYSEAMERICAN:PED) CEO Simon G. Kukes bought 227,710 shares of the firm's stock in a transaction on Monday, August 19th. The shares were purchased at an average cost of $1.51 per share, with a total value of $343,842.10. The acquisition was disclosed in a document filed with the Securities & Exchange Commission, which is available at this link.
Shares of NYSEAMERICAN PED opened at $1.49 on Thursday. Pedevco Corp has a twelve month low of $0.48 and a twelve month high of $3.04.
Hedge funds and other institutional investors have recently modified their holdings of the business. Virtu Financial LLC bought a new stake in Pedevco during the 1st quarter valued at $31,000. BlackRock Inc. raised its position in Pedevco by 2,017.2% during the 2nd quarter. BlackRock Inc. now owns 21,172 shares of the company's stock valued at $44,000 after purchasing an additional 20,172 shares in the last quarter. Finally, Vanguard Group Inc. raised its position in shares of Pedevco by 18.4% in the 2nd quarter. Vanguard Group Inc. now owns 91,437 shares of the company's stock worth $190,000 after acquiring an additional 14,206 shares in the last quarter.
About Pedevco
PEDEVCO Corp., doing business as Pacific Energy Development, engages in the acquisition, exploration, development, and production of oil and natural gas shale plays in the United States. The company's principal asset is Denver-Julesberg (D-J) Basin asset comprising approximately 10,961 net acres located in the Weld county, Colorado.
Featured Article: Green Investing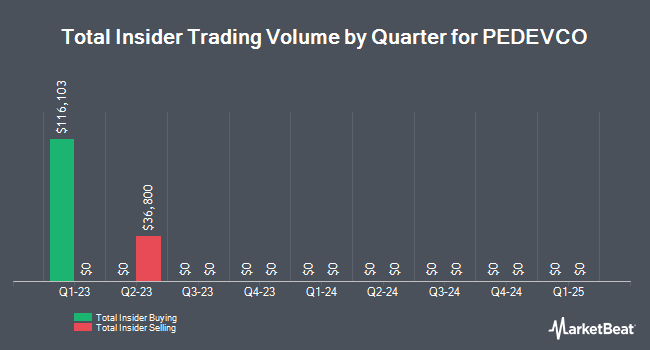 Receive News & Ratings for Pedevco Daily - Enter your email address below to receive a concise daily summary of the latest news and analysts' ratings for Pedevco and related companies with MarketBeat.com's FREE daily email newsletter.