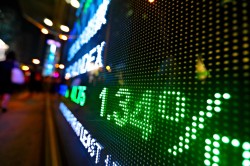 National Bank Financial cut shares of Roots (TSE:ROO) from an outperfrom under weight rating to a sector perform under weight rating in a research report report published on Monday morning. National Bank Financial also issued estimates for Roots' FY2020 earnings at $0.42 EPS and FY2021 earnings at $0.49 EPS.
Roots (TSE:ROO) last released its earnings results on Wednesday, June 12th. The company reported C($0.17) EPS for the quarter, missing the Thomson Reuters' consensus estimate of C($0.14) by C($0.03). The company had revenue of C$54.35 million during the quarter, compared to analysts' expectations of C$55.55 million.
See Also: Understanding Price to Earnings Ratio (PE)
Receive News & Ratings for Roots Daily - Enter your email address below to receive a concise daily summary of the latest news and analysts' ratings for Roots and related companies with MarketBeat.com's FREE daily email newsletter.