BlueLinx (NYSE:BXC) is set to release its earnings data before the market opens on Wednesday, August 7th.
BlueLinx (NYSE:BXC) last posted its quarterly earnings results on Wednesday, May 8th. The construction company reported ($0.30) earnings per share (EPS) for the quarter. BlueLinx had a negative return on equity of 606.34% and a negative net margin of 1.35%. The company had revenue of $638.70 million during the quarter.
Shares of NYSE:BXC opened at $21.83 on Tuesday. BlueLinx has a 52-week low of $17.88 and a 52-week high of $43.89. The business has a 50-day moving average price of $20.06.
In related news, major shareholder Nokomis Capital, L.L.C. bought 2,335 shares of the firm's stock in a transaction on Tuesday, July 9th. The stock was bought at an average cost of $18.60 per share, for a total transaction of $43,431.00. The purchase was disclosed in a legal filing with the Securities & Exchange Commission, which can be accessed through
the SEC website
. 5.07% of the stock is currently owned by company insiders.
Several research analysts have recently issued reports on the company. TheStreet cut BlueLinx from a "c" rating to a "d+" rating in a research note on Monday, April 8th. ValuEngine raised BlueLinx from a "sell" rating to a "hold" rating in a report on Thursday, August 1st.
BlueLinx Company Profile
BlueLinx Holdings Inc, together with its subsidiaries, distributes building and industrial products in the United States. It distributes structural products, including plywood, oriented strand board, rebar and remesh, lumber, spruce, and other wood products primarily used for structural support, walls, and flooring in construction projects; and specialty products comprising engineered wood, moulding, siding, cedar, metal, and insulation products.
Recommended Story: What is a growth and income fund?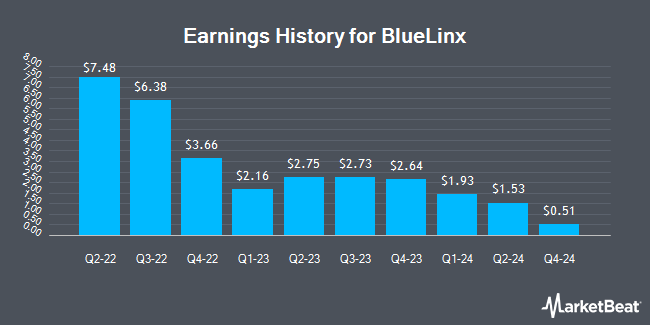 Receive News & Ratings for BlueLinx Daily - Enter your email address below to receive a concise daily summary of the latest news and analysts' ratings for BlueLinx and related companies with MarketBeat.com's FREE daily email newsletter.