Gladstone Land (NASDAQ:LAND) will post its quarterly earnings results after the market closes on Wednesday, August 7th. Analysts expect Gladstone Land to post earnings of $0.12 per share for the quarter.
Gladstone Land (NASDAQ:LAND) last released its quarterly earnings data on Tuesday, May 7th. The real estate investment trust reported ($0.03) EPS for the quarter, missing the consensus estimate of $0.12 by ($0.15). The company had revenue of $7.83 million for the quarter. Gladstone Land had a net margin of 8.09% and a return on equity of 1.73%. On average, analysts expect Gladstone Land to post $0 EPS for the current fiscal year and $1 EPS for the next fiscal year.
Shares of NASDAQ LAND opened at $11.47 on Tuesday. The firm's 50-day simple moving average is $11.58. The company has a debt-to-equity ratio of 1.71, a current ratio of 3.44 and a quick ratio of 3.44. The stock has a market cap of $213.42 million, a PE ratio of 22.49 and a beta of 0.79. Gladstone Land has a 12-month low of $11.12 and a 12-month high of $13.85.
The firm also recently announced a dividend, which will be paid on Friday, August 30th. Stockholders of record on Tuesday, August 20th will be given a dividend of $0.045 per share. This is a boost from Gladstone Land's previous dividend of $0.04. The ex-dividend date of this dividend is Monday, August 19th. Gladstone Land's dividend payout ratio is currently 103.92%.
Several analysts have recently issued reports on the stock. Zacks Investment Research upgraded shares of Gladstone Land from a "sell" rating to a "hold" rating in a research report on Tuesday, July 23rd. ValuEngine cut shares of Gladstone Land from a "buy" rating to a "hold" rating in a research report on Friday, June 21st.
Gladstone Land Company Profile
Gladstone Land is a publicly-traded real estate investment trust that invests in farmland and farm-related properties located in major agricultural markets in the U.S., which it leases to unrelated third-party farmer-tenants. The Company reports the current fair value of its farmland on a quarterly basis; as of December 31, 2018, its estimated net asset value was $12.88 per share.
Further Reading: What is the yield curve?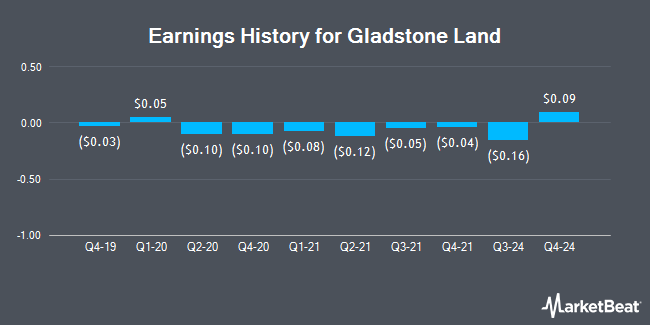 Receive News & Ratings for Gladstone Land Daily - Enter your email address below to receive a concise daily summary of the latest news and analysts' ratings for Gladstone Land and related companies with MarketBeat.com's FREE daily email newsletter.