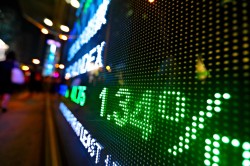 Peel Hotels (LON:PHO) released its earnings results on Friday. The company reported GBX 1.50 ($0.02) earnings per share for the quarter, Bloomberg Earnings reports.
Shares of PHO opened at GBX 44.70 ($0.58) on Monday. The firm has a market cap of $6.26 million and a P/E ratio of -5.73. The company has a quick ratio of 0.09, a current ratio of 0.17 and a debt-to-equity ratio of 41.22. Peel Hotels has a one year low of GBX 57 ($0.74) and a one year high of GBX 78 ($1.02). The stock has a 50 day simple moving average of GBX 65.40.
Peel Hotels Company Profile
Peel Hotels Plc engages in the hotel business in the United Kingdom. It owns and operates nine hotels, including the Bull Hotel in Peterborough; the Caledonian Hotel in Newcastle upon Tyne; the Cosmopolitan Hotel in Leeds; the Crown & Mitre Hotel in Carlisle; the George Hotel in Wallingford; the King Malcolm Hotel in Dunfermline; the Midland Hotel in Bradford; the Norfolk Royale Hotel in Bournemouth; and the Strathdon Hotel in Nottingham.
Featured Article: Technical Analysis of Stocks, How Can It Help
Receive News & Ratings for Peel Hotels Daily - Enter your email address below to receive a concise daily summary of the latest news and analysts' ratings for Peel Hotels and related companies with MarketBeat.com's FREE daily email newsletter.