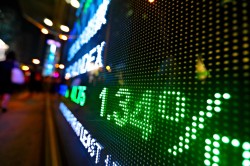 Helios Technologies (NASDAQ:HLIO) was downgraded by Zacks Investment Research from a "hold" rating to a "sell" rating in a note issued to investors on Wednesday, Zacks.com reports.
According to Zacks, "Helios Technologies Inc. is an industrial technology company. It develops and manufactures hydraulic and electronic control solutions. The company's operating subsidiaries includes Sun Hydraulics, Enovation Controls and Faster Group. Its operating business segment consists of Hydraulics and Electronics. Hydraulics segment includes material handling, construction equipment, agriculture, specialized vehicles and energy. Electronics segment provides electronic control solutions. Helios Technologies Inc., formerly known as Sun Hydraulics Corporation, is based in Sarasota, United States. "
Separately, ValuEngine upgraded shares of Zuora from a "hold" rating to a "buy" rating in a report on Saturday, July 6th.
Shares of
NASDAQ HLIO
opened at $44.89 on Wednesday. Helios Technologies has a 12-month low of $30.79 and a 12-month high of $58.13. The stock has a market cap of $1.45 billion, a P/E ratio of 19.52 and a beta of 1.85. The company has a debt-to-equity ratio of 0.61, a current ratio of 2.03 and a quick ratio of 1.13.
Helios Technologies (NASDAQ:HLIO) last posted its earnings results on Monday, May 6th. The company reported $0.63 earnings per share for the quarter, meeting the consensus estimate of $0.63. The company had revenue of $146.85 million for the quarter, compared to analyst estimates of $151.91 million. Helios Technologies had a net margin of 9.19% and a return on equity of 12.57%. As a group, equities analysts forecast that Helios Technologies will post 2.57 earnings per share for the current year.
In other news, major shareholder Robert C. Koski sold 2,500 shares of the company's stock in a transaction that occurred on Thursday, June 27th. The shares were sold at an average price of $44.32, for a total value of $110,800.00. The sale was disclosed in a document filed with the SEC, which is available through this link. Also, Director Christine L. Koski sold 5,000 shares of the company's stock in a transaction that occurred on Friday, June 21st. The stock was sold at an average price of $47.03, for a total transaction of $235,150.00. The disclosure for this sale can be found here. Insiders sold a total of 10,000 shares of company stock worth $460,250 over the last quarter. 6.30% of the stock is currently owned by company insiders.
Helios Technologies Company Profile
Helios Technologies, Inc develops, manufactures, and sells solutions for the hydraulics and electronics markets. The company operates through two segments, Hydraulics and Electronics. The Hydraulics segment offers screw-in hydraulic cartridge valves, electro-hydraulics, manifolds, and integrated package solutions for the industrial and mobile hydraulics markets; quick release hydraulic coupling solutions for the agriculture, construction equipment, and industrial markets; and hydraulic, pneumatic, electronic, and instrumentation solutions to a range of industries, including agriculture, industrial, mining, and material handling.
Featured Article: Find a Trading Strategy That Works

Get a free copy of the Zacks research report on Helios Technologies (HLIO)
For more information about research offerings from Zacks Investment Research, visit Zacks.com
Receive News & Ratings for Helios Technologies Daily - Enter your email address below to receive a concise daily summary of the latest news and analysts' ratings for Helios Technologies and related companies with MarketBeat.com's FREE daily email newsletter.