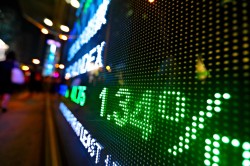 Wall Financial Co. (TSE:WFC) declared a quarterly dividend on Thursday, June 13th, Zacks reports. Shareholders of record on Thursday, June 27th will be given a dividend of 2.00 per share on Thursday, July 11th. This represents a $8.00 annualized dividend and a yield of 32.00%. The ex-dividend date is Wednesday, June 26th. This is a boost from Wall Financial's previous quarterly dividend of $1.00.
TSE:WFC opened at C$25.00 on Monday. The company has a current ratio of 0.50, a quick ratio of 0.06 and a debt-to-equity ratio of 389.28. The stock has a market capitalization of $848.83 million and a PE ratio of 15.44. Wall Financial has a twelve month low of C$21.50 and a twelve month high of C$29.85.
Wall Financial (TSE:WFC) last posted its quarterly earnings results on Thursday, April 18th. The company reported C$1.09 earnings per share for the quarter. The business had revenue of C$137.30 million during the quarter.
About Wall Financial
Wall Financial Corporation, together with its subsidiaries, operates as a real estate investment and development company in Canada. It operates through three segments: Rental, Hotel, and Development. The company owns, develops, manages, and rents residential and commercial properties; owns, develops, and manages hotel properties; and develops, constructs, and sells residential housing properties.
Featured Story: Stock Portfolio Tracker
Receive News & Ratings for Wall Financial Daily - Enter your email address below to receive a concise daily summary of the latest news and analysts' ratings for Wall Financial and related companies with MarketBeat.com's FREE daily email newsletter.