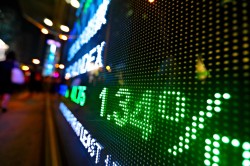 Co-Diagnostics Inc (NASDAQ:CODX) was the recipient of a large growth in short interest in the month of May. As of May 31st, there was short interest totalling 710,400 shares, a growth of 43.5% from the April 30th total of 495,200 shares. Approximately 6.9% of the shares of the stock are short sold. Based on an average trading volume of 309,200 shares, the short-interest ratio is currently 2.3 days.
Shares of NASDAQ:CODX traded up $0.03 during trading on Wednesday, reaching $0.77. 70,497 shares of the company's stock traded hands, compared to its average volume of 623,052. Co-Diagnostics has a fifty-two week low of $0.69 and a fifty-two week high of $4.30.
Co-Diagnostics (NASDAQ:CODX) last posted its earnings results on Wednesday, May 15th. The company reported ($0.09) EPS for the quarter, missing the Zacks' consensus estimate of ($0.08) by ($0.01). Co-Diagnostics had a negative net margin of 19,057.66% and a negative return on equity of 430.95%. As a group, analysts expect that Co-Diagnostics will post -0.09 EPS for the current fiscal year.
CODX has been the topic of a number of analyst reports. HC Wainwright initiated coverage on Co-Diagnostics in a research report on Monday, March 11th. They set a "buy" rating and a $2.00 target price on the stock. Maxim Group initiated coverage on Co-Diagnostics in a research report on Tuesday, April 9th. They set a "buy" rating and a $2.00 target price on the stock. Finally,
Zacks Investment Research
cut Co-Diagnostics from a "hold" rating to a "sell" rating in a research report on Wednesday, May 22nd.
A hedge fund recently raised its stake in Co-Diagnostics stock. Vanguard Group Inc increased its holdings in shares of Co-Diagnostics Inc (NASDAQ:CODX) by 18.7% during the third quarter, according to its most recent filing with the Securities & Exchange Commission. The firm owned 95,342 shares of the company's stock after acquiring an additional 15,027 shares during the period. Vanguard Group Inc's holdings in Co-Diagnostics were worth $251,000 as of its most recent SEC filing. Institutional investors own 10.63% of the company's stock.
ILLEGAL ACTIVITY NOTICE: "Short Interest in Co-Diagnostics Inc (NASDAQ:CODX) Increases By 43.5%" was first posted by Ticker Report and is the sole property of of Ticker Report. If you are accessing this report on another website, it was stolen and reposted in violation of US & international copyright laws. The legal version of this report can be viewed at https://www.tickerreport.com/banking-finance/4379945/short-interest-in-co-diagnostics-inc-nasdaqcodx-increases-by-43-5.html.
Co-Diagnostics Company Profile
Co-Diagnostics, Inc, a molecular diagnostics company, intends to manufacture and sell reagents used for diagnostic tests that function via the detection and/or analysis of nucleic acid molecules. It also intends to sell diagnostic equipment from other manufacturers as self-contained lab systems. Co-Diagnostics, Inc was founded in 2013 and is headquartered in Salt Lake City, Utah.
Read More: How does new data get added to a blockchain?
Receive News & Ratings for Co-Diagnostics Daily - Enter your email address below to receive a concise daily summary of the latest news and analysts' ratings for Co-Diagnostics and related companies with MarketBeat.com's FREE daily email newsletter.