Shares of Inmarsat Plc (LON:ISAT) have received a consensus recommendation of "Hold" from the twelve research firms that are covering the company, MarketBeat.com reports. Eight investment analysts have rated the stock with a hold rating and three have given a buy rating to the company. The average 1-year price target among brokers that have covered the stock in the last year is GBX 567.60 ($7.42).
A number of equities research analysts have commented on ISAT shares. Barclays cut their target price on shares of Inmarsat from GBX 480 ($6.27) to GBX 450 ($5.88) and set an "equal weight" rating for the company in a research report on Monday, March 18th. Numis Securities reiterated a "hold" rating and set a GBX 546 ($7.13) price target on shares of Inmarsat in a research note on Friday, May 3rd. Deutsche Bank reiterated a "buy" rating and set a GBX 575 ($7.51) price target on shares of Inmarsat in a research note on Wednesday, May 1st. Berenberg Bank lifted their price target on shares of Inmarsat from GBX 465 ($6.08) to GBX 470 ($6.14) and gave the stock a "hold" rating in a research note on Friday, March 8th. Finally, Jefferies Financial Group dropped their price target on shares of Inmarsat from GBX 1,000 ($13.07) to GBX 890 ($11.63) and set a "buy" rating on the stock in a research note on Thursday, March 21st.
In other news, insider Tony Bates sold 7,105 shares of Inmarsat stock in a transaction on Monday, March 25th. The shares were sold at an average price of GBX 541 ($7.07), for a total transaction of £38,438.05 ($50,226.12).
LON:ISAT
traded up GBX 3 ($0.04) during trading hours on Tuesday, reaching GBX 552.40 ($7.22). The company had a trading volume of 1,720,272 shares, compared to its average volume of 2,850,000. The company has a debt-to-equity ratio of 234.06, a quick ratio of 0.76 and a current ratio of 0.81. Inmarsat has a 52 week low of GBX 355 ($4.64) and a 52 week high of GBX 646 ($8.44). The stock has a market cap of $2.56 billion and a price-to-earnings ratio of -12.64. The company's 50 day simple moving average is GBX 541.11.
Inmarsat Company Profile
Inmarsat plc provides mobile satellite communications services on land, at sea, and in the air worldwide. The company operates through five segments: Maritime, U.S. Government, Global Government, Aviation, and Enterprise. It offers voice and data broadband services; global maritime distress and safety system services; mobile and fixed voice services; a portfolio of machine-to-machine services that provide two-way data connectivity for messaging, tracking, and monitoring of fixed or mobile assets; maritime satellite services, including very small aperture terminals and television receive only antenna services; and Global Xpress, a high-speed broadband service that offer seamless connectivity for advanced data services on land, at sea, and in the air.
Featured Story: Why are percentage gainers important?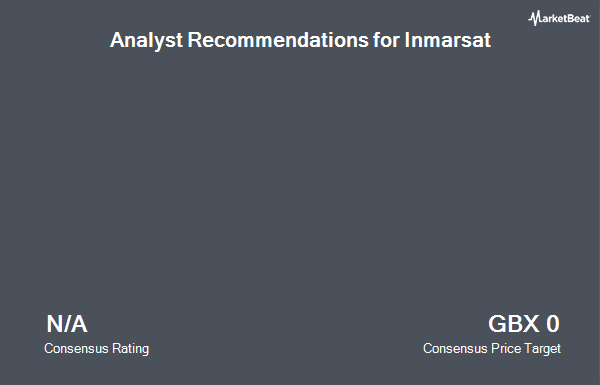 Receive News & Ratings for Inmarsat Daily - Enter your email address below to receive a concise daily summary of the latest news and analysts' ratings for Inmarsat and related companies with MarketBeat.com's FREE daily email newsletter.