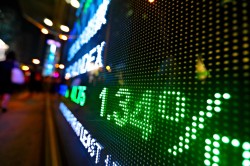 Livexlive Media (NASDAQ:LIVX) released its quarterly earnings data on Thursday. The company reported ($0.19) EPS for the quarter, missing the Zacks' consensus estimate of ($0.15) by ($0.04), Fidelity Earnings reports. The company had revenue of $9.18 million for the quarter, compared to the consensus estimate of $13.00 million. Livexlive Media had a negative return on equity of 134.46% and a negative net margin of 117.50%. Livexlive Media updated its FY 2020 guidance to EPS.
LIVX stock traded down $0.19 during trading on Friday, hitting $3.46. The company had a trading volume of 5,785 shares, compared to its average volume of 47,270. Livexlive Media has a one year low of $2.52 and a one year high of $11.11. The stock has a market capitalization of $193.79 million, a PE ratio of -7.21 and a beta of 1.42. The company has a debt-to-equity ratio of 0.55, a current ratio of 0.52 and a quick ratio of 0.52.
Several research analysts have commented on the company. ValuEngine downgraded Livexlive Media from a "buy" rating to a "hold" rating in a research note on Tuesday, April 23rd. Zacks Investment Research upgraded Livexlive Media from a "hold" rating to a "buy" rating and set a $6.25 target price on the stock in a report on Saturday, February 16th. Maxim Group started coverage on Livexlive Media in a report on Monday, March 18th. They issued a "buy" rating and a $9.00 target price on the stock. Finally, HC Wainwright set a $10.00 target price on Livexlive Media and gave the company a "buy" rating in a report on Tuesday, May 28th. Two equities research analysts have rated the stock with a hold rating and three have issued a buy rating to the stock. Livexlive Media presently has a consensus rating of "Buy" and a consensus target price of $6.56.
A hedge fund recently raised its stake in Livexlive Media stock. Geode Capital Management LLC boosted its stake in Livexlive Media Inc (NASDAQ:LIVX) by 56.7% during the 4th quarter, according to its most recent Form 13F filing with the Securities and Exchange Commission (SEC). The fund owned 237,334 shares of the company's stock after acquiring an additional 85,855 shares during the period. Geode Capital Management LLC owned 0.46% of Livexlive Media worth $1,174,000 at the end of the most recent quarter. 21.95% of the stock is currently owned by institutional investors.
ILLEGAL ACTIVITY WARNING: This article was first published by Ticker Report and is owned by of Ticker Report. If you are reading this article on another website, it was illegally stolen and reposted in violation of international trademark & copyright laws. The legal version of this article can be accessed at https://www.tickerreport.com/banking-finance/4371362/livexlive-media-nasdaqlivx-posts-quarterly-earnings-results-misses-estimates-by-0-04-eps.html.
About Livexlive Media
LiveXLive Media, Inc engages in the acquisition, distribution, and monetization of live music, Internet radio, and music-related streaming and video content. The company operates LiveXLive, a live music streaming platform, as well as Slacker Radio, a streaming music service; and produces original music-related content.
See Also: Growth Stocks, What They Are, What They Are Not
Receive News & Ratings for Livexlive Media Daily - Enter your email address below to receive a concise daily summary of the latest news and analysts' ratings for Livexlive Media and related companies with MarketBeat.com's FREE daily email newsletter.