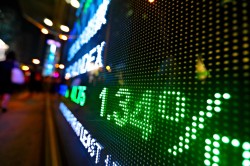 Equities research analysts expect that IVERIC bio Inc (NASDAQ:ISEE) will announce earnings of ($0.30) per share for the current fiscal quarter, according to Zacks. Zero analysts have issued estimates for IVERIC bio's earnings. IVERIC bio reported earnings per share of ($0.37) in the same quarter last year, which suggests a positive year-over-year growth rate of 18.9%. The firm is scheduled to issue its next quarterly earnings report on Wednesday, August 7th.
On average, analysts expect that IVERIC bio will report full year earnings of ($1.36) per share for the current year, with EPS estimates ranging from ($1.59) to ($1.12). For the next year, analysts expect that the business will report earnings of ($1.19) per share, with EPS estimates ranging from ($1.22) to ($1.16). Zacks Investment Research's EPS calculations are an average based on a survey of sell-side research firms that that provide coverage for IVERIC bio.
IVERIC bio (NASDAQ:ISEE) last issued its quarterly earnings data on Wednesday, May 8th. The company reported ($0.30) EPS for the quarter, topping analysts' consensus estimates of ($0.36) by $0.06.
Several research analysts have recently commented on the company.
Zacks Investment Research
lowered IVERIC bio from a "buy" rating to a "hold" rating in a report on Wednesday, May 1st.
ValuEngine
lowered IVERIC bio from a "hold" rating to a "sell" rating in a report on Wednesday, May 1st.
Shares of NASDAQ ISEE traded down $0.02 during midday trading on Friday, reaching $1.32. 13,005 shares of the stock were exchanged, compared to its average volume of 225,536. The stock has a market capitalization of $55.99 million, a price-to-earnings ratio of -0.80 and a beta of 1.47. IVERIC bio has a twelve month low of $1.02 and a twelve month high of $4.50.
In related news, insider Glenn Sblendorio acquired 25,000 shares of IVERIC bio stock in a transaction that occurred on Friday, May 10th. The shares were purchased at an average cost of $1.48 per share, for a total transaction of $37,000.00. The transaction was disclosed in a legal filing with the SEC, which is available at the SEC website. 4.30% of the stock is currently owned by insiders.
About IVERIC bio
IVERIC bio, Inc, a biopharmaceutical company, develops novel therapies to treat ophthalmic diseases with a focus on age-related and orphan retinal diseases. The company is developing Zimura, an inhibitor of complement factor C5, which is in Phase IIb clinical trials for the treatment of geographic atrophy (GA), a late-stage form of dry age-related macular degeneration (AMD) characterized by retinal cell death and degeneration of tissue in the central portion of the retina known as the macula; and autosomal recessive Stargardt disease (STGD1), which is an orphan inherited retinal disease (IRD).
Read More: Asset Allocation and Your Retirement

Get a free copy of the Zacks research report on IVERIC bio (ISEE)
For more information about research offerings from Zacks Investment Research, visit Zacks.com
Receive News & Ratings for IVERIC bio Daily - Enter your email address below to receive a concise daily summary of the latest news and analysts' ratings for IVERIC bio and related companies with MarketBeat.com's FREE daily email newsletter.