First Midwest Bancorp Inc (NASDAQ:FMBI) declared a quarterly dividend on Monday, May 20th, Wall Street Journal reports. Investors of record on Friday, June 28th will be paid a dividend of 0.14 per share by the financial services provider on Tuesday, July 9th. This represents a $0.56 dividend on an annualized basis and a yield of 2.76%. The ex-dividend date is Thursday, June 27th. This is an increase from First Midwest Bancorp's previous quarterly dividend of $0.12.
First Midwest Bancorp has raised its dividend payment by an average of 7.1% per year over the last three years and has raised its dividend annually for the last 6 consecutive years. First Midwest Bancorp has a dividend payout ratio of 28.7% indicating that its dividend is sufficiently covered by earnings. Equities analysts expect First Midwest Bancorp to earn $2.10 per share next year, which means the company should continue to be able to cover its $0.48 annual dividend with an expected future payout ratio of 22.9%.
FMBI traded down $0.01 during trading on Monday, reaching $20.27. 276,257 shares of the stock were exchanged, compared to its average volume of 531,217. The company has a debt-to-equity ratio of 0.55, a quick ratio of 0.97 and a current ratio of 0.97. The company has a market cap of $2.19 billion, a price-to-earnings ratio of 12.14, a PEG ratio of 1.48 and a beta of 1.25. First Midwest Bancorp has a 1 year low of $18.10 and a 1 year high of $27.70.
First Midwest Bancorp (NASDAQ:FMBI) last posted its earnings results on Tuesday, April 23rd. The financial services provider reported $0.46 EPS for the quarter, topping the Zacks' consensus estimate of $0.45 by $0.01. The company had revenue of $175.04 million for the quarter, compared to the consensus estimate of $175.47 million. First Midwest Bancorp had a return on equity of 9.33% and a net margin of 22.44%. First Midwest Bancorp's quarterly revenue was up 12.9% compared to the same quarter last year. During the same period in the previous year, the business earned $0.33 earnings per share. On average, analysts predict that First Midwest Bancorp will post 1.95 EPS for the current fiscal year.
In other news, CEO Michael L. Scudder sold 30,000 shares of the company's stock in a transaction on Friday, February 22nd. The stock was sold at an average price of $23.31, for a total value of $699,300.00. Following the sale, the chief executive officer now directly owns 97,784 shares in the company, valued at $2,279,345.04. The sale was disclosed in a document filed with the Securities & Exchange Commission, which can be accessed through this hyperlink. 1.10% of the stock is owned by corporate insiders.
FMBI has been the topic of a number of research analyst reports. Piper Jaffray Companies set a $26.00 target price on First Midwest Bancorp and gave the stock a "buy" rating in a research report on Friday, January 25th. FIG Partners upgraded First Midwest Bancorp from a "market perform" rating to an "outperform" rating in a research report on Thursday. Finally, BidaskClub upgraded First Midwest Bancorp from a "strong sell" rating to a "sell" rating in a research report on Wednesday, February 20th. Two investment analysts have rated the stock with a sell rating, five have issued a hold rating and two have given a buy rating to the stock. First Midwest Bancorp has a consensus rating of "Hold" and an average target price of $26.08.
TRADEMARK VIOLATION NOTICE: This news story was originally reported by Ticker Report and is owned by of Ticker Report. If you are reading this news story on another website, it was stolen and reposted in violation of international copyright laws. The correct version of this news story can be read at https://www.tickerreport.com/banking-finance/4347662/first-midwest-bancorp-inc-fmbi-to-issue-quarterly-dividend-of-0-14.html.
First Midwest Bancorp Company Profile
First Midwest Bancorp, Inc operates as the bank holding company for First Midwest Bank that provides various banking products and services. The company accepts checking, NOW, money market, and savings accounts, as well as various types of short-term and long-term certificates of deposit. Its loan products include working capital loans; accounts receivable financing; inventory and equipment financing; sector-based lending, including healthcare, asset-based lending, structured finance, and syndications; agricultural loans; and mortgages, home equity lines and loans, personal loans, specialty loans, and consumer secured loans, as well as funding for the construction, purchase, refinance, or improvement of commercial real estate properties.
Featured Article: Quiet Period Expirations Explained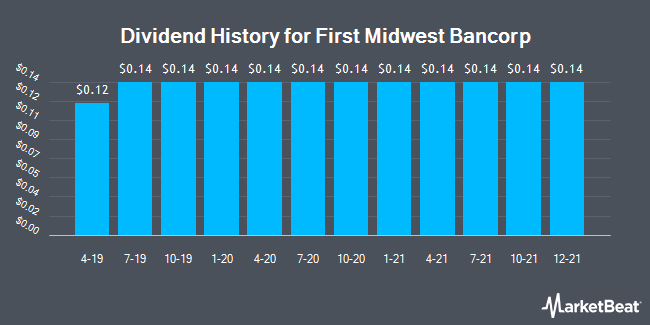 Receive News & Ratings for First Midwest Bancorp Daily - Enter your email address below to receive a concise daily summary of the latest news and analysts' ratings for First Midwest Bancorp and related companies with MarketBeat.com's FREE daily email newsletter.