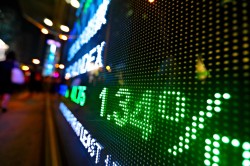 Goldman Sachs Group reiterated their buy rating on shares of Takeda Pharmaceutical (NYSE:TAK) in a research report report published on Tuesday morning, The Fly reports.
Separately, Zacks Investment Research upgraded shares of Takeda Pharmaceutical from a hold rating to a buy rating and set a $23.00 price target on the stock in a research note on Wednesday, March 13th.
TAK opened at $20.94 on Tuesday. The company has a debt-to-equity ratio of 1.19, a quick ratio of 2.81 and a current ratio of 3.06. The stock has a market capitalization of $33.48 billion, a price-to-earnings ratio of 19.57, a P/E/G ratio of 5.87 and a beta of 0.73. Takeda Pharmaceutical has a twelve month low of $15.50 and a twelve month high of $26.95.
Takeda Pharmaceutical (NYSE:TAK) last released its earnings results on Friday, February 1st. The company reported $0.75 earnings per share for the quarter. The firm had revenue of $4.43 billion for the quarter. Takeda Pharmaceutical had a net margin of 6.13% and a return on equity of 14.62%. As a group, research analysts anticipate that Takeda Pharmaceutical will post 0.48 earnings per share for the current fiscal year.
Takeda Pharmaceutical Company Profile
Takeda Pharmaceutical Company Limited, together with its subsidiaries, engages in the research, development, manufacturing, and marketing of pharmaceutical products, over-the-counter medicines and quasi-drug consumer products, and other healthcare products. The company provides medicines in various therapeutic areas comprising gastroenterology, oncology, and neuroscience; and vaccines.
Featured Article: What is a Call Option?

Receive News & Ratings for Takeda Pharmaceutical Daily - Enter your email address below to receive a concise daily summary of the latest news and analysts' ratings for Takeda Pharmaceutical and related companies with MarketBeat.com's FREE daily email newsletter.