Conagra Brands (NYSE:CAG) updated its FY19 earnings guidance on Thursday. The company provided earnings per share guidance of $2.03-2.08 for the period, compared to the Thomson Reuters consensus earnings per share estimate of $2.05. Conagra Brands also updated its FY 2019 guidance to $2.03-2.08 EPS.
Several research firms have weighed in on CAG. Zacks Investment Research upgraded Conagra Brands from a sell rating to a hold rating in a report on Wednesday. TheStreet lowered Conagra Brands from a b- rating to a c+ rating in a report on Monday, December 3rd. Credit Suisse Group set a $35.00 target price on Conagra Brands and gave the company a hold rating in a report on Monday, November 26th. Barclays restated a buy rating and set a $30.00 target price on shares of Conagra Brands in a report on Sunday, December 23rd. Finally, ValuEngine lowered Conagra Brands from a hold rating to a sell rating in a report on Friday, December 21st. Two research analysts have rated the stock with a sell rating, two have given a hold rating and eight have assigned a buy rating to the company. Conagra Brands presently has an average rating of Buy and an average target price of $41.40.
Conagra Brands stock opened at $25.82 on Friday. The company has a debt-to-equity ratio of 1.58, a quick ratio of 0.69 and a current ratio of 1.47. The stock has a market capitalization of $11.12 billion, a PE ratio of 12.24, a price-to-earnings-growth ratio of 1.59 and a beta of 0.74. Conagra Brands has a 52 week low of $20.22 and a 52 week high of $39.43.
Conagra Brands (NYSE:CAG) last posted its quarterly earnings data on Thursday, March 21st. The company reported $0.51 EPS for the quarter, topping analysts' consensus estimates of $0.49 by $0.02. The business had revenue of $2.71 billion for the quarter, compared to analyst estimates of $2.75 billion. Conagra Brands had a return on equity of 19.45% and a net margin of 9.07%. The firm's revenue for the quarter was up 35.7% on a year-over-year basis. During the same period in the previous year, the company posted $0.61 earnings per share. Analysts anticipate that Conagra Brands will post 2.06 EPS for the current year.
WARNING: This news story was first posted by Ticker Report and is owned by of Ticker Report. If you are accessing this news story on another publication, it was illegally copied and reposted in violation of US and international trademark & copyright legislation. The correct version of this news story can be accessed at https://www.tickerreport.com/banking-finance/4240089/conagra-brands-cag-updates-fy19-earnings-guidance.html.
Conagra Brands Company Profile
Conagra Brands, Inc, together with its subsidiaries, operates as a food company in North America. The company operates through Grocery & Snacks, Refrigerated & Frozen, International, and Foodservice segments. The Grocery & Snacks segment primarily offers shelf stable food products in various retail channels in the United States.
Recommended Story: Straddles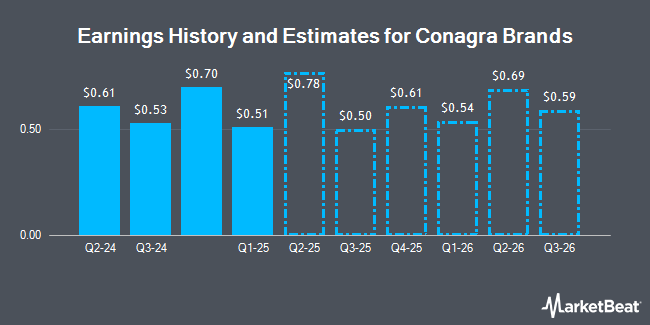 Receive News & Ratings for Conagra Brands Daily - Enter your email address below to receive a concise daily summary of the latest news and analysts' ratings for Conagra Brands and related companies with MarketBeat.com's FREE daily email newsletter.