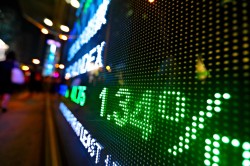 Telemetry Investments L.L.C. grew its stake in Xtant Medical Holdings Inc (NYSEAMERICAN:XTNT) by 8.6% in the fourth quarter, according to its most recent disclosure with the Securities and Exchange Commission (SEC). The institutional investor owned 796,826 shares of the medical device company's stock after purchasing an additional 63,079 shares during the period. Xtant Medical makes up about 0.8% of Telemetry Investments L.L.C.'s holdings, making the stock its 25th largest holding. Telemetry Investments L.L.C. owned approximately 6.05% of Xtant Medical worth $1,283,000 as of its most recent filing with the Securities and Exchange Commission (SEC).
XTNT remained flat at $$3.83 during trading hours on Friday. The company had a trading volume of 2,801 shares, compared to its average volume of 11,968. Xtant Medical Holdings Inc has a 12-month low of $1.61 and a 12-month high of $11.50.
Separately, Maxim Group decreased their price objective on Xtant Medical from $10.00 to $6.00 and set a "buy" rating on the stock in a report on Thursday, November 15th.
WARNING: "Telemetry Investments L.L.C. Has $1.28 Million Stake in Xtant Medical Holdings Inc (XTNT)" was posted by Ticker Report and is the sole property of of Ticker Report. If you are accessing this piece on another domain, it was illegally copied and reposted in violation of U.S. & international copyright legislation. The legal version of this piece can be viewed at https://www.tickerreport.com/banking-finance/4223887/telemetry-investments-l-l-c-has-1-28-million-stake-in-xtant-medical-holdings-inc-xtnt.html.
Xtant Medical Profile
Xtant Medical Holdings, Inc, formerly Bacterin International Holdings, Inc, develops, manufactures and markets regenerative medicine products and medical devices for domestic and international markets. The Company operates through the development, manufacture and marketing of regenerative medical products and devices segment.
See Also: Book Value Of Equity Per Share – BVPS Explained

Receive News & Ratings for Xtant Medical Daily - Enter your email address below to receive a concise daily summary of the latest news and analysts' ratings for Xtant Medical and related companies with MarketBeat.com's FREE daily email newsletter.