Brown-Forman (NYSE:BF.B) issued an update on its FY19 earnings guidance on Wednesday morning. The company provided EPS guidance of $1.65-1.75 for the period, compared to the Thomson Reuters consensus EPS estimate of $1.70. The company issued revenue guidance of +6-7% to ~$3.44-3.48 billion, compared to the consensus revenue estimate of $3.36 billion.
NYSE BF.B opened at $51.49 on Wednesday. The company has a market cap of $24.41 billion, a price-to-earnings ratio of 34.79, a PEG ratio of 3.21 and a beta of 0.67. The company has a debt-to-equity ratio of 1.53, a current ratio of 3.06 and a quick ratio of 1.41. Brown-Forman has a 1-year low of $44.57 and a 1-year high of $59.58.
Brown-Forman (NYSE:BF.B) last released its quarterly earnings results on Wednesday, December 5th. The company reported $0.52 earnings per share for the quarter, beating the consensus estimate of $0.51 by $0.01. The business had revenue of $910.00 million during the quarter, compared to analysts' expectations of $931.13 million. Brown-Forman had a return on equity of 57.47% and a net margin of 21.01%. As a group, research analysts forecast that Brown-Forman will post 1.69 EPS for the current fiscal year.
The company also recently declared a quarterly dividend, which will be paid on Monday, April 1st. Shareholders of record on Monday, March 4th will be issued a dividend of $0.166 per share. This represents a $0.66 annualized dividend and a yield of 1.29%. The ex-dividend date is Friday, March 1st. Brown-Forman's dividend payout ratio is presently 44.59%.
Several equities analysts have weighed in on BF.B shares. Goldman Sachs Group cut Brown-Forman from a neutral rating to a sell rating in a report on Tuesday, January 8th. Pivotal Research reiterated a buy rating and issued a $65.00 target price on shares of Brown-Forman in a report on Wednesday, December 5th. UBS Group initiated coverage on Brown-Forman in a report on Thursday, December 13th. They issued a neutral rating and a $48.00 target price for the company. ValuEngine cut Brown-Forman from a buy rating to a hold rating in a report on Tuesday, January 15th. Finally, Jefferies Financial Group reiterated a hold rating and issued a $47.00 target price on shares of Brown-Forman in a report on Thursday, December 13th. Three equities research analysts have rated the stock with a sell rating, five have issued a hold rating and two have issued a buy rating to the company. The stock presently has an average rating of Hold and an average price target of $56.17.
COPYRIGHT VIOLATION WARNING: "Brown-Forman (BF.B) Issues FY19 Earnings Guidance" was originally published by Ticker Report and is the property of of Ticker Report. If you are viewing this piece of content on another website, it was copied illegally and republished in violation of international copyright & trademark legislation. The original version of this piece of content can be accessed at https://www.tickerreport.com/banking-finance/4201095/brown-forman-bf-b-issues-fy19-earnings-guidance.html.
About Brown-Forman
Brown-Forman Corporation manufactures, bottles, imports, exports, markets, and sells various alcoholic beverages worldwide. It provides spirits, wines, ready-to-drink cocktails, whiskeys, vodkas, tequilas, champagnes, brandy, and liqueurs. The company offers its products primarily under the Jack Daniel's, Gentleman Jack, Woodford Reserve, Korbel, Finlandia, el Jimador, Herradura, Sonoma-Cutrer, Canadian Mist, GlenDronach, BenRiach, Glenglassaugh, Chambord, Old Forester, Early Times, Pepe Lopez, Antiguo, Slane Irish, and Coopers' Craft brands.
Featured Article: How to find the components of the quick ratio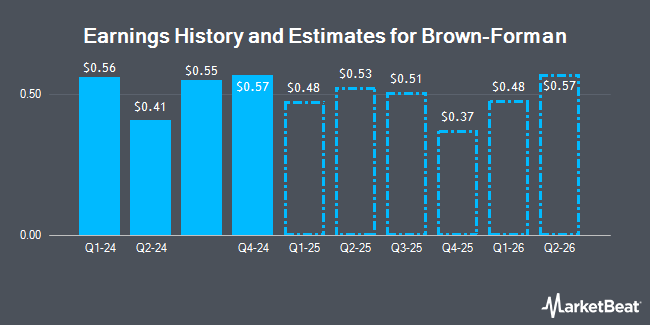 Receive News & Ratings for Brown-Forman Daily - Enter your email address below to receive a concise daily summary of the latest news and analysts' ratings for Brown-Forman and related companies with MarketBeat.com's FREE daily email newsletter.