Shares of Mullen Group Ltd (TSE:MTL) have been assigned an average recommendation of "Buy" from the eleven ratings firms that are covering the company, Marketbeat.com reports. Two equities research analysts have rated the stock with a hold recommendation, four have assigned a buy recommendation and one has given a strong buy recommendation to the company. The average 12-month target price among analysts that have issued a report on the stock in the last year is C$15.43.
Several brokerages have recently commented on MTL. Canaccord Genuity lowered their price objective on Mullen Group from C$17.50 to C$17.00 in a research note on Tuesday, October 16th. Raymond James increased their price target on Mullen Group from C$14.85 to C$15.60 and gave the company a "market perform" rating in a research report on Wednesday, October 17th. Industrial Alliance Securities raised Mullen Group from a "buy" rating to a "strong-buy" rating in a research report on Friday, October 26th. Royal Bank of Canada decreased their price target on Mullen Group from C$18.00 to C$17.00 and set an "outperform" rating for the company in a research report on Friday, October 26th. Finally, TD Securities decreased their target price on Mullen Group from C$16.00 to C$15.00 and set a "hold" rating for the company in a research report on Friday, October 26th.
TSE:MTL traded down C$0.19 on Tuesday, hitting C$11.53. The stock had a trading volume of 257,727 shares, compared to its average volume of 384,589. The firm has a market cap of $1.23 billion and a P/E ratio of 28.33. Mullen Group has a 52 week low of C$11.26 and a 52 week high of C$16.93. The company has a debt-to-equity ratio of 49.29, a quick ratio of 1.58 and a current ratio of 1.94.
The firm also recently announced a monthly dividend, which will be paid on Friday, February 15th. Investors of record on Thursday, January 31st will be issued a dividend of $0.05 per share. The ex-dividend date is Wednesday, January 30th. This represents a $0.60 annualized dividend and a dividend yield of 5.20%. Mullen Group's dividend payout ratio (DPR) is presently 135.14%.
In other news, Director David Edward Mullen sold 150,000 shares of the business's stock in a transaction dated Monday, November 19th. The shares were sold at an average price of C$13.20, for a total transaction of C$1,980,000.00.
About Mullen Group
Mullen Group Ltd. provides transportation and oilfield services in Canada and the United States. It operates in two segments, Trucking/Logistics and Oilfield Services. The Trucking/Logistics segment offers long haul and local transportation services to customers in various industries. The Oilfield Services segment provides specialized transportation, fluid hauling, waste disposal, warehousing, drilling, well-servicing, and dewatering services to the oil and natural gas industry in western Canada, which includes the exploration and development companies, as well as production and natural gas transmission companies.
Featured Article: What are trading strategies for the 52-week high/low?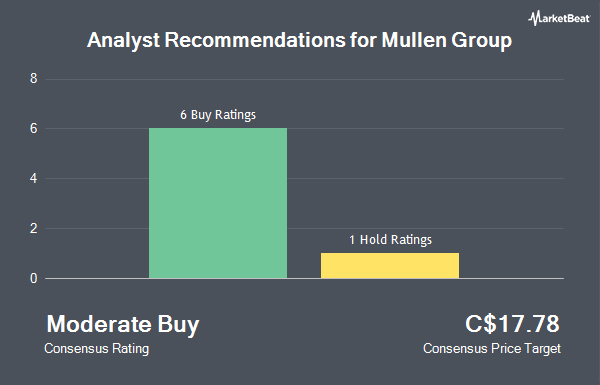 Receive News & Ratings for Mullen Group Daily - Enter your email address below to receive a concise daily summary of the latest news and analysts' ratings for Mullen Group and related companies with MarketBeat.com's FREE daily email newsletter.