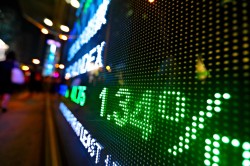 TheStreet upgraded shares of Highpower International (NASDAQ:HPJ) from a d+ rating to a c- rating in a report issued on Friday morning.
Separately, ValuEngine cut shares of Highpower International from a hold rating to a sell rating in a report on Monday, November 12th.
Shares of NASDAQ:HPJ opened at $2.88 on Friday. Highpower International has a one year low of $2.07 and a one year high of $4.32. The stock has a market cap of $43.58 million, a price-to-earnings ratio of 3.31 and a beta of 2.34.
Highpower International (NASDAQ:HPJ) last issued its quarterly earnings results on Tuesday, November 13th. The technology company reported $0.39 EPS for the quarter. Highpower International had a net margin of 4.41% and a return on equity of 19.02%. The firm had revenue of $90.56 million for the quarter.
A hedge fund recently bought a new stake in Highpower International stock. Mirae Asset Global Investments Co. Ltd. purchased a new stake in Highpower International Inc (NASDAQ:HPJ) during the 3rd quarter, according to its most recent Form 13F filing with the SEC. The institutional investor purchased 327,728 shares of the technology company's stock, valued at approximately $885,000. Mirae Asset Global Investments Co. Ltd. owned 2.11% of Highpower International as of its most recent SEC filing. Institutional investors own 10.60% of the company's stock.
About Highpower International
Highpower International, Inc, together with its subsidiaries, produces and sells nickel-metal hydride (Ni-MH) rechargeable batteries. The company operates in three segments: Lithium Business, Ni-MH Batteries and Accessories, and New Material. It offers Ni-MH rechargeable batteries in AA, AAA, 9V, C, D, and SC sizes in blister packing, as well as chargers and battery packs.
Further Reading: Mutual Funds
Receive News & Ratings for Highpower International Daily - Enter your email address below to receive a concise daily summary of the latest news and analysts' ratings for Highpower International and related companies with MarketBeat.com's FREE daily email newsletter.