Genworth MI Canada (TSE:MIC) had its target price hoisted by BMO Capital Markets from C$52.00 to C$54.00 in a research report report published on Thursday morning.
Several other research firms have also issued reports on MIC. TD Securities lifted their target price on shares of Genworth MI Canada from C$47.00 to C$48.00 in a report on Tuesday. Royal Bank of Canada boosted their price objective on shares of Genworth MI Canada from C$44.00 to C$47.00 in a report on Tuesday, January 15th. Finally, CIBC lowered shares of Genworth MI Canada from a neutral rating to an underperform rating and set a C$45.00 price objective for the company. in a report on Thursday, January 17th. One analyst has rated the stock with a sell rating, two have assigned a hold rating and two have assigned a buy rating to the company. Genworth MI Canada presently has an average rating of Hold and a consensus target price of C$48.67.
Shares of MIC stock traded down C$0.08 during trading hours on Thursday, hitting C$45.16. 270,832 shares of the company's stock traded hands, compared to its average volume of 217,758. Genworth MI Canada has a 12-month low of C$38.00 and a 12-month high of C$46.80. The firm has a market capitalization of $3.96 billion and a price-to-earnings ratio of 8.13. The company has a debt-to-equity ratio of 10.86, a quick ratio of 0.18 and a current ratio of 0.28.
The company also recently disclosed a quarterly dividend, which will be paid on Wednesday, March 6th. Investors of record on Friday, February 15th will be issued a $0.51 dividend. The ex-dividend date of this dividend is Thursday, February 14th. This represents a $2.04 dividend on an annualized basis and a yield of 4.52%. Genworth MI Canada's payout ratio is currently 34.55%.
In related news, insider Craig Sweeney sold 2,500 shares of the business's stock in a transaction that occurred on Monday, November 12th. The shares were sold at an average price of C$43.69, for a total value of C$109,225.00.
Genworth MI Canada Company Profile
Recommended Story: How accurate is the Rule of 72?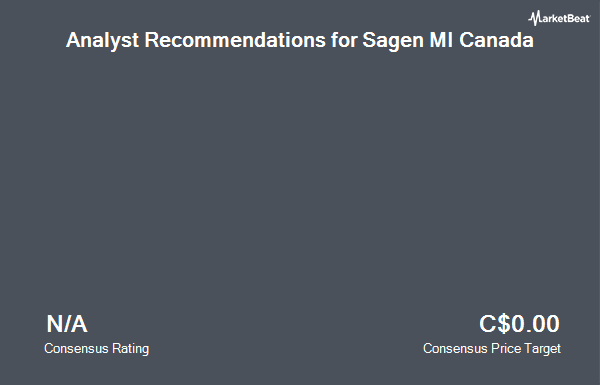 Receive News & Ratings for Genworth MI Canada Daily - Enter your email address below to receive a concise daily summary of the latest news and analysts' ratings for Genworth MI Canada and related companies with MarketBeat.com's FREE daily email newsletter.