Meritor (NYSE:MTOR) updated its FY 2019 earnings guidance on Tuesday. The company provided earnings per share guidance of $3.30-3.30 for the period, compared to the Thomson Reuters consensus earnings per share estimate of $3.19. The company issued revenue guidance of $4.3-4.3 billion, compared to the consensus revenue estimate of $4.29 billion.Meritor also updated its FY19 guidance to $3.30 from $3.10 EPS.
Several analysts recently commented on the company. ValuEngine raised Meritor from a strong sell rating to a sell rating in a report on Monday, December 17th. Zacks Investment Research lowered Meritor from a hold rating to a sell rating in a report on Wednesday, October 24th. Barclays reaffirmed a hold rating and set a $19.00 target price on shares of Meritor in a report on Sunday, January 6th. Stifel Nicolaus reaffirmed a buy rating and set a $24.00 target price on shares of Meritor in a report on Sunday, November 18th. Finally, Piper Jaffray Companies reaffirmed a buy rating on shares of Meritor in a report on Thursday, November 15th. One investment analyst has rated the stock with a sell rating, five have issued a hold rating and three have assigned a buy rating to the company. The stock has an average rating of Hold and a consensus price target of $26.14.
Meritor stock traded up $0.27 during midday trading on Thursday, hitting $20.68. 1,299,303 shares of the company were exchanged, compared to its average volume of 1,065,362. The firm has a market cap of $1.76 billion, a price-to-earnings ratio of 6.83 and a beta of 1.98. Meritor has a fifty-two week low of $15.01 and a fifty-two week high of $29.54. The company has a quick ratio of 0.69, a current ratio of 1.13 and a debt-to-equity ratio of 2.30.
Meritor (NYSE:MTOR) last posted its earnings results on Tuesday, January 29th. The auto parts company reported $0.79 EPS for the quarter, topping the consensus estimate of $0.60 by $0.19. Meritor had a return on equity of 93.25% and a net margin of 5.63%. The firm had revenue of $1.04 billion for the quarter, compared to analyst estimates of $967.98 million. During the same period last year, the company earned $0.62 earnings per share. Meritor's revenue for the quarter was up 15.0% compared to the same quarter last year. Equities analysts expect that Meritor will post 3.3 EPS for the current year.
In related news, VP Paul Bialy sold 2,697 shares of Meritor stock in a transaction that occurred on Monday, December 3rd. The stock was sold at an average price of $16.06, for a total transaction of $43,313.82. The sale was disclosed in a filing with the SEC, which is accessible through this hyperlink. Also, CEO Jeffrey A. Craig sold 242,358 shares of Meritor stock in a transaction on Monday, December 3rd. The shares were sold at an average price of $16.07, for a total value of $3,894,693.06. The disclosure for this sale can be found here. Over the last three months, insiders sold 333,133 shares of company stock worth $5,355,182. 2.80% of the stock is owned by corporate insiders.
TRADEMARK VIOLATION NOTICE: This story was first published by Ticker Report and is the property of of Ticker Report. If you are accessing this story on another publication, it was stolen and reposted in violation of international copyright & trademark laws. The correct version of this story can be viewed at https://www.tickerreport.com/banking-finance/4116125/meritor-mtor-updates-fy-2019-earnings-guidance.html.
About Meritor
Meritor, Inc designs, develops, manufactures, markets, distributes, sells, services, and supports integrated systems, modules, and components to original equipment manufacturers (OEMs) and the aftermarket for the commercial vehicle, transportation, and industrial sectors. It operates through two segments, Commercial Truck & Trailer; and Aftermarket & Industrial.
See Also: What are catch-up contributions?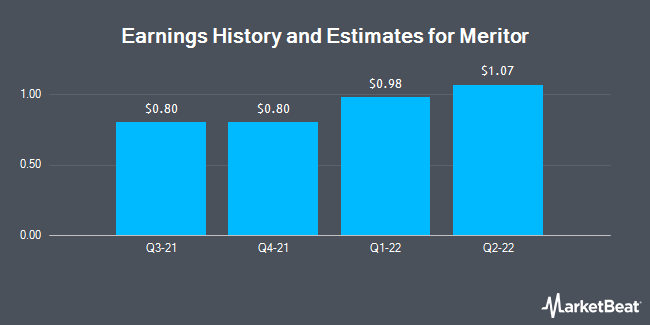 Receive News & Ratings for Meritor Daily - Enter your email address below to receive a concise daily summary of the latest news and analysts' ratings for Meritor and related companies with MarketBeat.com's FREE daily email newsletter.