World Acceptance (NASDAQ:WRLD) will post its quarterly earnings results before the market opens on Thursday, January 31st. Analysts expect World Acceptance to post earnings of $1.13 per share for the quarter.
World Acceptance (NASDAQ:WRLD) last posted its earnings results on Thursday, November 1st. The credit services provider reported $1.56 earnings per share for the quarter, topping the Thomson Reuters' consensus estimate of $1.46 by $0.10. World Acceptance had a net margin of 4.43% and a return on equity of 14.37%. The business had revenue of $127.10 million for the quarter, compared to analyst estimates of $123.30 million. During the same quarter in the prior year, the firm earned $1.10 EPS. The firm's quarterly revenue was up 6.9% compared to the same quarter last year. On average, analysts expect World Acceptance to post $8 EPS for the current fiscal year and $9 EPS for the next fiscal year.
WRLD opened at $111.37 on Thursday. The company has a debt-to-equity ratio of 0.41, a quick ratio of 17.26 and a current ratio of 17.26. World Acceptance has a twelve month low of $89.78 and a twelve month high of $125.14. The stock has a market capitalization of $1.14 billion, a PE ratio of 14.72 and a beta of 2.52.
Several equities research analysts have recently weighed in on the stock.
Zacks Investment Research
raised shares of World Acceptance from a "sell" rating to a "hold" rating in a report on Saturday, January 12th. BidaskClub upgraded shares of World Acceptance from a "sell" rating to a "hold" rating in a research report on Friday, December 21st. Finally, BMO Capital Markets upped their price target on shares of World Acceptance from $79.00 to $82.00 and gave the stock an "underperform" rating in a research report on Monday, November 5th. One investment analyst has rated the stock with a sell rating, two have issued a hold rating and one has issued a buy rating to the company's stock. The company currently has a consensus rating of "Hold" and an average price target of $102.00.
ILLEGAL ACTIVITY NOTICE: This report was first published by Ticker Report and is owned by of Ticker Report. If you are accessing this report on another website, it was illegally copied and reposted in violation of international trademark & copyright legislation. The original version of this report can be read at https://www.tickerreport.com/banking-finance/4096843/world-acceptance-wrld-set-to-announce-earnings-on-thursday.html.
About World Acceptance
World Acceptance Corporation engages in small-loan consumer finance business. The company offers short-term small and medium-term larger installment loans, as well as related credit insurance and ancillary products and services to individuals. It also provides automobile club memberships to its borrowers; and income tax return preparation and electronic filing services.
Read More: Reverse Stock Split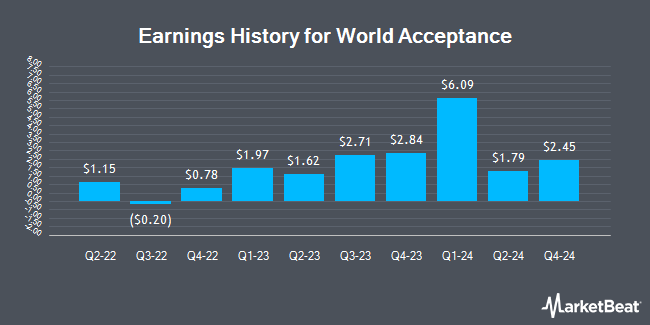 Receive News & Ratings for World Acceptance Daily - Enter your email address below to receive a concise daily summary of the latest news and analysts' ratings for World Acceptance and related companies with MarketBeat.com's FREE daily email newsletter.