Oxford Industries (NYSE:OXM) updated its fourth quarter earnings guidance on Saturday. The company provided EPS guidance of $0.96-1.11 for the period, compared to the Thomson Reuters consensus EPS estimate of $1.05. The company issued revenue guidance of $297-307 million, compared to the consensus revenue estimate of $301.84 million.
A number of equities analysts have recently issued reports on the stock. CL King assumed coverage on shares of Oxford Industries in a research note on Friday, December 28th. They issued a buy rating and a $80.00 price objective for the company. Zacks Investment Research cut shares of Oxford Industries from a hold rating to a sell rating in a research note on Saturday, December 15th. KeyCorp dropped their price objective on shares of Oxford Industries from $104.00 to $90.00 and set an overweight rating for the company in a research note on Thursday, December 13th. DA Davidson cut shares of Oxford Industries from a buy rating to a neutral rating and set a $71.00 price objective for the company. in a research note on Thursday, December 13th. Finally, Telsey Advisory Group dropped their price objective on shares of Oxford Industries from $93.00 to $76.00 and set a market perform rating for the company in a research note on Thursday, December 13th. One equities research analyst has rated the stock with a sell rating, three have assigned a hold rating and five have given a buy rating to the company's stock. The company presently has an average rating of Hold and an average price target of $90.00.
Shares of OXM traded up $1.64 during trading hours on Friday, hitting $75.77. The stock had a trading volume of 136,213 shares, compared to its average volume of 181,938. The company has a debt-to-equity ratio of 0.07, a quick ratio of 0.91 and a current ratio of 2.02. Oxford Industries has a 52 week low of $63.50 and a 52 week high of $97.19. The firm has a market cap of $1.30 billion, a price-to-earnings ratio of 20.70, a PEG ratio of 1.78 and a beta of 0.28.
Oxford Industries (NYSE:OXM) last posted its earnings results on Wednesday, December 12th. The textile maker reported $0.14 earnings per share for the quarter, missing the Thomson Reuters' consensus estimate of $0.17 by ($0.03). Oxford Industries had a return on equity of 15.56% and a net margin of 6.69%. The firm had revenue of $233.70 million during the quarter, compared to the consensus estimate of $242.45 million. During the same period in the previous year, the company posted $0.17 EPS. The firm's revenue for the quarter was down 1.0% compared to the same quarter last year. As a group, sell-side analysts anticipate that Oxford Industries will post 4.3 EPS for the current fiscal year.
The company also recently announced a quarterly dividend, which will be paid on Friday, February 1st. Stockholders of record on Friday, January 18th will be issued a $0.34 dividend. This represents a $1.36 annualized dividend and a dividend yield of 1.79%. The ex-dividend date of this dividend is Thursday, January 17th. Oxford Industries's payout ratio is 37.16%.
In other news, Director John R. Holder bought 500 shares of the stock in a transaction dated Tuesday, December 18th. The shares were acquired at an average price of $69.89 per share, with a total value of $34,945.00. Following the acquisition, the director now owns 21,134 shares in the company, valued at $1,477,055.26. The acquisition was disclosed in a filing with the Securities & Exchange Commission, which is available through this link. 2.07% of the stock is currently owned by corporate insiders.
ILLEGAL ACTIVITY WARNING: "Oxford Industries (OXM) Issues Q4 Earnings Guidance" was published by Ticker Report and is the property of of Ticker Report. If you are reading this news story on another publication, it was illegally copied and republished in violation of United States & international copyright law. The legal version of this news story can be viewed at https://www.tickerreport.com/banking-finance/4073276/oxford-industries-oxm-issues-q4-earnings-guidance.html.
Oxford Industries Company Profile
Oxford Industries, Inc, an apparel company, designs, sources, markets, and distributes products of company owned and licensed brands, and private labels apparel products worldwide. The company offers men's and women's sportswear and related products under the Tommy Bahama brand; women's and girl's dresses and sportswear, scarves, bags, jewelry, and belts, as well as footwear and children's apparel under the Lilly Pulitzer brand; and men's shirts, pants, shorts, outerwear, ties, swimwear, footwear, and accessories, as well as women's products under the Southern Tide brand.
See Also: What are the benefits of buying treasury bonds?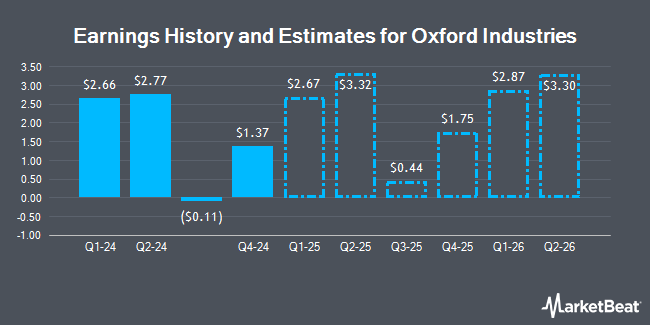 Receive News & Ratings for Oxford Industries Daily - Enter your email address below to receive a concise daily summary of the latest news and analysts' ratings for Oxford Industries and related companies with MarketBeat.com's FREE daily email newsletter.