Kohl's (NYSE:KSS) issued an update on its FY19 earnings guidance on Thursday morning. The company provided EPS guidance of $5.50-5.55 for the period, compared to the Thomson Reuters consensus EPS estimate of $5.51.
Shares of KSS stock opened at $67.27 on Friday. The company has a debt-to-equity ratio of 0.70, a current ratio of 1.58 and a quick ratio of 0.37. The company has a market cap of $11.54 billion, a PE ratio of 16.05, a price-to-earnings-growth ratio of 1.90 and a beta of 0.94. Kohl's has a 1-year low of $57.89 and a 1-year high of $83.28.
Kohl's (NYSE:KSS) last announced its earnings results on Tuesday, November 20th. The company reported $0.98 earnings per share for the quarter, topping the Thomson Reuters' consensus estimate of $0.96 by $0.02. The business had revenue of $4.37 billion during the quarter, compared to the consensus estimate of $4.36 billion. Kohl's had a return on equity of 16.06% and a net margin of 4.94%. The business's quarterly revenue was up 1.3% on a year-over-year basis. During the same period in the prior year, the company posted $0.70 EPS. On average, sell-side analysts forecast that Kohl's will post 5.53 earnings per share for the current fiscal year.
The firm also recently announced a quarterly dividend, which was paid on Wednesday, December 26th. Stockholders of record on Wednesday, December 12th were paid a dividend of $0.61 per share. This represents a $2.44 annualized dividend and a dividend yield of 3.63%. The ex-dividend date was Tuesday, December 11th. Kohl's's payout ratio is 58.23%.
Several analysts recently commented on the company. ValuEngine cut Kohl's from a buy rating to a hold rating in a research report on Tuesday, October 2nd. OTR Global upgraded Kohl's to a positive rating in a research report on Friday, November 2nd. Bank of America reiterated a buy rating and set a $90.00 price target on shares of Kohl's in a research report on Wednesday, October 10th. Credit Suisse Group dropped their price target on Kohl's from $78.00 to $67.00 and set a neutral rating for the company in a research report on Wednesday, November 21st. Finally, Citigroup dropped their price target on Kohl's from $79.00 to $71.00 and set a neutral rating for the company in a research report on Wednesday, November 21st. Two equities research analysts have rated the stock with a sell rating, twelve have assigned a hold rating and nine have assigned a buy rating to the company. Kohl's has a consensus rating of Hold and a consensus target price of $76.75.
TRADEMARK VIOLATION NOTICE: This story was published by Ticker Report and is the sole property of of Ticker Report. If you are viewing this story on another domain, it was illegally copied and reposted in violation of United States and international copyright and trademark laws. The original version of this story can be accessed at https://www.tickerreport.com/banking-finance/4072358/kohls-kss-issues-fy19-earnings-guidance-2.html.
About Kohl's
Kohl's Corporation operates as an omni-channel retailer in the United States. Its stores and Website offer apparel, footwear, accessories, beauty, and home products. As of February 3, 2018, it operated 1,158 department stores; a Website Kohls.com; and 12 FILA outlets, and 4 Off-Aisle clearance centers.
Read More: What does the Dow Jones Industrial Average (DJIA) measure?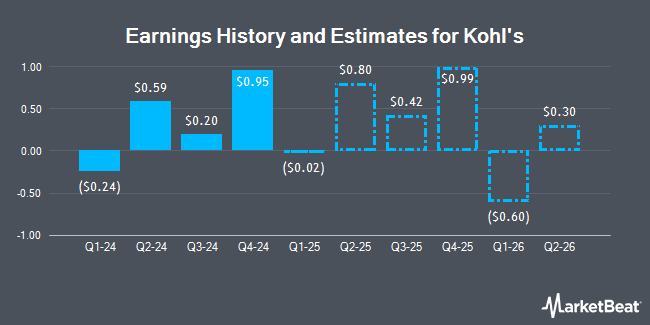 Receive News & Ratings for Kohl's Daily - Enter your email address below to receive a concise daily summary of the latest news and analysts' ratings for Kohl's and related companies with MarketBeat.com's FREE daily email newsletter.