RPM International Inc. (NYSE:RPM) declared a quarterly dividend on Wednesday, January 2nd, RTT News reports. Stockholders of record on Wednesday, January 16th will be paid a dividend of 0.35 per share by the specialty chemicals company on Thursday, January 31st. This represents a $1.40 dividend on an annualized basis and a dividend yield of 2.53%. The ex-dividend date of this dividend is Tuesday, January 15th.
RPM International has raised its dividend payment by an average of 7.5% annually over the last three years and has raised its dividend every year for the last 44 years. RPM International has a dividend payout ratio of 45.2% meaning its dividend is sufficiently covered by earnings. Analysts expect RPM International to earn $3.60 per share next year, which means the company should continue to be able to cover its $1.40 annual dividend with an expected future payout ratio of 38.9%.
Shares of NYSE:RPM opened at $55.28 on Thursday. The company has a current ratio of 1.83, a quick ratio of 1.15 and a debt-to-equity ratio of 1.25. RPM International has a twelve month low of $46.36 and a twelve month high of $68.13. The company has a market cap of $6.94 billion, a PE ratio of 18.93, a PEG ratio of 1.53 and a beta of 1.33.
RPM International (NYSE:RPM) last issued its earnings results on Friday, January 4th. The specialty chemicals company reported $0.52 earnings per share for the quarter, missing analysts' consensus estimates of $0.67 by ($0.15). RPM International had a return on equity of 21.39% and a net margin of 4.47%. The firm had revenue of $1.36 billion for the quarter, compared to analyst estimates of $1.38 billion. During the same period in the previous year, the company earned $0.70 earnings per share. RPM International's revenue for the quarter was up 3.6% compared to the same quarter last year. Equities analysts predict that RPM International will post 2.91 EPS for the current fiscal year.
In related news, Director John M. Ballbach purchased 3,360 shares of the stock in a transaction that occurred on Monday, October 15th. The stock was acquired at an average cost of $59.53 per share, with a total value of $200,020.80. Following the transaction, the director now owns 13,260 shares of the company's stock, valued at approximately $789,367.80. The purchase was disclosed in a filing with the Securities & Exchange Commission, which can be accessed through the SEC website. Corporate insiders own 1.80% of the company's stock.
A number of research firms recently commented on RPM. Zacks Investment Research raised RPM International from a "sell" rating to a "hold" rating in a research report on Monday, October 8th. BMO Capital Markets set a $72.00 price target on RPM International and gave the company a "buy" rating in a research report on Friday, January 4th. ValuEngine lowered RPM International from a "buy" rating to a "hold" rating in a research report on Saturday, January 5th. Royal Bank of Canada reissued a "hold" rating and issued a $59.00 price target on shares of RPM International in a research report on Sunday. Finally, Seaport Global Securities reissued a "hold" rating and issued a $71.00 price target on shares of RPM International in a research report on Monday, December 3rd. Two equities research analysts have rated the stock with a sell rating, five have given a hold rating and five have assigned a buy rating to the company's stock. RPM International presently has a consensus rating of "Hold" and an average price target of $65.25.
COPYRIGHT VIOLATION WARNING: This piece was reported by Ticker Report and is the property of of Ticker Report. If you are reading this piece on another domain, it was illegally copied and republished in violation of US and international copyright and trademark legislation. The correct version of this piece can be read at https://www.tickerreport.com/banking-finance/4067972/rpm-international-inc-rpm-plans-quarterly-dividend-of-0-35.html.
About RPM International
RPM International Inc manufactures and sells specialty chemicals for the industrial, specialty, and consumer markets worldwide. Its Industrial segment offers waterproofing, coatings, and institutional roofing systems; sealants, air barriers, tapes, and foams; residential home weatherization systems; roofing and building maintenance and related services; sealing and bonding, and flooring and in-plant glazing solutions; solutions for fire stopping and intumescent steel coating, and the manufacturing industry; polymer flooring systems; and fiberglass reinforced plastic gratings and shapes.
Read More: How a Back-End Load Mutual Fund Works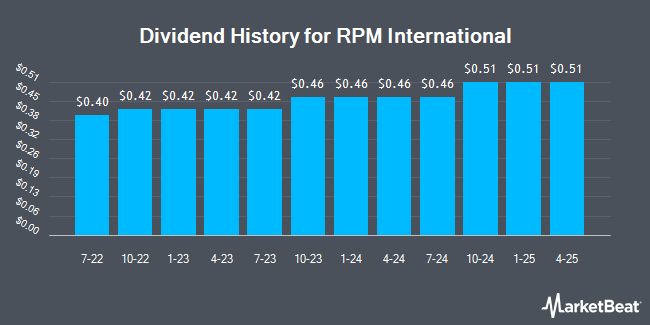 Receive News & Ratings for RPM International Daily - Enter your email address below to receive a concise daily summary of the latest news and analysts' ratings for RPM International and related companies with MarketBeat.com's FREE daily email newsletter.