Paychex (NASDAQ:PAYX) updated its FY19 earnings guidance on Wednesday. The company provided earnings per share guidance of $2.83-2.86 for the period, compared to the Thomson Reuters consensus earnings per share estimate of $2.85.
Several brokerages have commented on PAYX. BMO Capital Markets reaffirmed a market perform rating on shares of Paychex in a research report on Thursday. Morgan Stanley boosted their price objective on Paychex from $67.00 to $73.00 and gave the company an equal weight rating in a research report on Wednesday, October 3rd. Barclays initiated coverage on Paychex in a research report on Wednesday, November 14th. They set an equal weight rating and a $70.00 price objective on the stock. Citigroup boosted their price objective on Paychex from $67.00 to $73.00 and gave the company a neutral rating in a research report on Wednesday, October 3rd. Finally, BidaskClub upgraded Paychex from a buy rating to a strong-buy rating in a research report on Thursday, November 22nd. Two investment analysts have rated the stock with a sell rating, thirteen have given a hold rating, two have issued a buy rating and one has issued a strong buy rating to the stock. The stock currently has a consensus rating of Hold and a consensus target price of $72.93.
Shares of PAYX stock opened at $64.96 on Friday. The firm has a market capitalization of $23.25 billion, a P/E ratio of 25.47, a P/E/G ratio of 2.67 and a beta of 1.03. Paychex has a one year low of $59.36 and a one year high of $76.02.
Paychex (NASDAQ:PAYX) last posted its quarterly earnings data on Wednesday, December 19th. The business services provider reported $0.65 EPS for the quarter, topping analysts' consensus estimates of $0.63 by $0.02. The company had revenue of $858.90 million for the quarter, compared to analyst estimates of $860.61 million. Paychex had a return on equity of 42.93% and a net margin of 27.99%. The business's revenue was up 7.0% on a year-over-year basis. During the same quarter in the previous year, the firm earned $0.59 earnings per share. Equities analysts forecast that Paychex will post 2.85 earnings per share for the current year.
In other Paychex news, Director Joseph Doody acquired 1,000 shares of Paychex stock in a transaction on Tuesday, October 23rd. The shares were bought at an average price of $66.50 per share, with a total value of $66,500.00. Following the completion of the purchase, the director now owns 16,639 shares in the company, valued at $1,106,493.50. The purchase was disclosed in a legal filing with the SEC, which is accessible through this hyperlink. 11.80% of the stock is currently owned by insiders.
ILLEGAL ACTIVITY NOTICE: This piece was reported by Ticker Report and is the sole property of of Ticker Report. If you are accessing this piece on another publication, it was copied illegally and republished in violation of U.S. and international copyright & trademark law. The legal version of this piece can be viewed at https://www.tickerreport.com/banking-finance/4032228/paychex-payx-updates-fy19-earnings-guidance.html.
About Paychex
Paychex, Inc provides payroll, human resource (HR), retirement, and insurance services for small to medium-sized businesses in the United States and Europe. The company offers payroll processing services; payroll tax administration services; employee payment services; and regulatory compliance services, such as new-hire reporting and garnishment processing.
See Also: What is a Swap?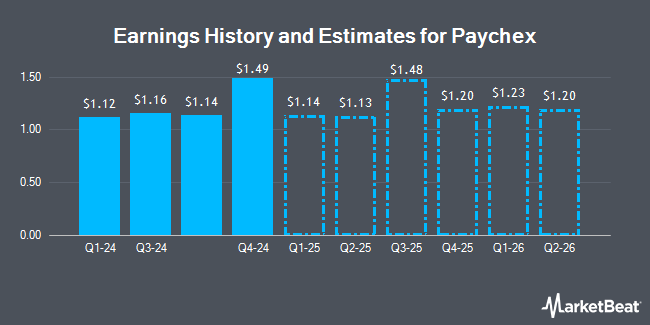 Receive News & Ratings for Paychex Daily - Enter your email address below to receive a concise daily summary of the latest news and analysts' ratings for Paychex and related companies with MarketBeat.com's FREE daily email newsletter.