Taylor Wimpey plc (LON:TW) has received an average recommendation of "Hold" from the thirteen research firms that are covering the firm, MarketBeat reports. Seven investment analysts have rated the stock with a hold recommendation and six have issued a buy recommendation on the company. The average 1 year target price among brokerages that have covered the stock in the last year is GBX 212.50 ($2.78).
A number of research analysts have weighed in on the stock. Liberum Capital reissued a "hold" rating on shares of Taylor Wimpey in a research note on Tuesday, October 30th. Barclays reissued an "overweight" rating and issued a GBX 200 ($2.61) target price (down from GBX 206 ($2.69)) on shares of Taylor Wimpey in a research note on Wednesday, September 12th. Deutsche Bank decreased their target price on shares of Taylor Wimpey from GBX 244 ($3.19) to GBX 237 ($3.10) and set a "buy" rating on the stock in a research note on Thursday, August 30th. Berenberg Bank restated a "buy" rating and set a GBX 210 ($2.74) price target on shares of Taylor Wimpey in a report on Wednesday, August 1st. Finally, Peel Hunt restated an "add" rating on shares of Taylor Wimpey in a report on Tuesday, July 31st.
TW traded up GBX 0.85 ($0.01) during trading on Thursday, reaching GBX 166.40 ($2.17). The company's stock had a trading volume of 9,406,050 shares, compared to its average volume of 16,200,000. Taylor Wimpey has a 1 year low of GBX 173 ($2.26) and a 1 year high of GBX 211.90 ($2.77).
Taylor Wimpey Company Profile
Taylor Wimpey plc operates as a homebuilding company in the United Kingdom and Spain. It builds various homes, such as one- and two-bedroom apartments to six-bedroom detached houses. The company was founded in 1880 and is headquartered in High Wycombe, the United Kingdom.
Further Reading: Trading Penny Stocks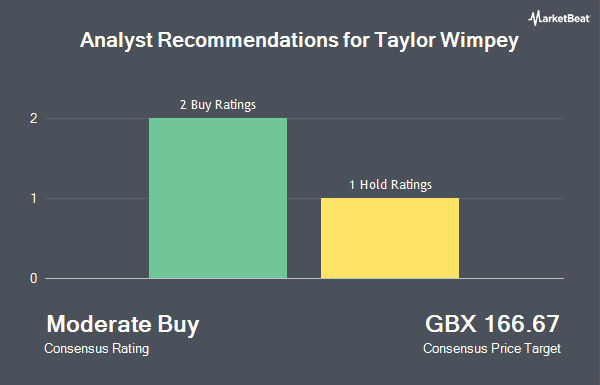 Receive News & Ratings for Taylor Wimpey Daily - Enter your email address below to receive a concise daily summary of the latest news and analysts' ratings for Taylor Wimpey and related companies with MarketBeat.com's FREE daily email newsletter.