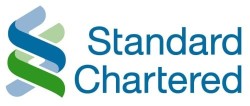 UBS Group reaffirmed their neutral rating on shares of Standard Chartered (LON:STAN) in a research note released on Wednesday morning, investing.thisismoney.co.uk reports. The brokerage currently has a GBX 600 ($7.84) price target on the financial services provider's stock, down from their previous price target of GBX 735 ($9.60).
Several other research analysts have also recently issued reports on STAN. Deutsche Bank decreased their price target on Standard Chartered from GBX 725 ($9.47) to GBX 671 ($8.77) and set a hold rating for the company in a research note on Monday, July 16th. Berenberg Bank reissued a buy rating and issued a GBX 920 ($12.02) price target on shares of Standard Chartered in a research note on Friday, July 20th. Shore Capital reissued a buy rating on shares of Standard Chartered in a research note on Tuesday, July 31st. Goldman Sachs Group set a GBX 980 ($12.81) price target on Standard Chartered and gave the stock a buy rating in a research note on Tuesday, July 31st. Finally, HSBC raised Standard Chartered to a hold rating and decreased their price target for the stock from GBX 680 ($8.89) to GBX 670 ($8.75) in a research note on Wednesday, August 1st. Seven research analysts have rated the stock with a sell rating, five have assigned a hold rating, four have issued a buy rating and one has assigned a strong buy rating to the company. The company has an average rating of Hold and a consensus price target of GBX 726.81 ($9.50).
LON:STAN opened at GBX 546.10 ($7.14) on Wednesday. Standard Chartered has a 1 year low of GBX 678.80 ($8.87) and a 1 year high of GBX 864.20 ($11.29).
The company also recently disclosed a dividend, which will be paid on Monday, October 22nd. Stockholders of record on Thursday, August 9th will be issued a $0.06 dividend. The ex-dividend date is Thursday, August 9th. This represents a dividend yield of 0.68%.
In other news, insider Bill Winters sold 152,207 shares of the company's stock in a transaction on Monday, September 24th. The stock was sold at an average price of GBX 641 ($8.38), for a total value of £975,646.87 ($1,274,855.44).
Standard Chartered Company Profile
Standard Chartered PLC provides various banking products and services in the Greater China and North Asia, ASEAN and South Asia, Africa and the Middle East, and Europe and America. The company operates in four segments: Corporate & Institutional Banking, Private Banking, Commercial Banking, and Retail Banking.
Featured Article: How Do You Calculate Return on Equity (ROE)?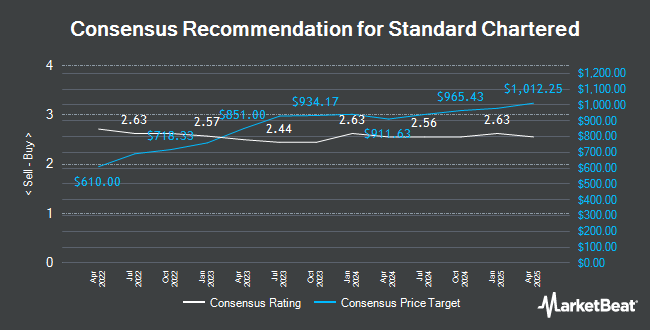 Receive News & Ratings for Standard Chartered Daily - Enter your email address below to receive a concise daily summary of the latest news and analysts' ratings for Standard Chartered and related companies with MarketBeat.com's FREE daily email newsletter.