JAPAN TOB INC/ADR (OTCMKTS:JAPAY) – Jefferies Financial Group decreased their FY2020 earnings per share (EPS) estimates for shares of JAPAN TOB INC/ADR in a research note issued to investors on Wednesday, October 17th. Jefferies Financial Group analyst O. Bennett now forecasts that the company will post earnings per share of $1.08 for the year, down from their previous forecast of $1.12. Jefferies Financial Group also issued estimates for JAPAN TOB INC/ADR's FY2021 earnings at $1.18 EPS.
Separately, Zacks Investment Research raised JAPAN TOB INC/ADR from a "sell" rating to a "hold" rating in a research note on Wednesday, August 22nd.
Shares of
OTCMKTS:JAPAY
opened at $13.05 on Friday. JAPAN TOB INC/ADR has a 1 year low of $12.63 and a 1 year high of $17.39. The company has a market cap of $51.76 billion, a PE ratio of 13.32, a price-to-earnings-growth ratio of 1.88 and a beta of 0.92. The company has a debt-to-equity ratio of 0.13, a quick ratio of 0.77 and a current ratio of 1.21.
JAPAN TOB INC/ADR (OTCMKTS:JAPAY) last announced its earnings results on Wednesday, August 1st. The company reported $0.29 earnings per share (EPS) for the quarter, meeting analysts' consensus estimates of $0.29. JAPAN TOB INC/ADR had a return on equity of 13.92% and a net margin of 17.70%. The firm had revenue of $5.14 billion for the quarter.
About JAPAN TOB INC/ADR
Japan Tobacco Inc, together with its subsidiaries, manufactures and sells tobacco products, primarily cigarettes in Japan and internationally. It also distributes imported tobacco products. The company offers its tobacco products primarily under the Winston, Camel, Mevius, LD, Benson & Hedges (B&H), Glamour, Sobranie, Silk Cut, Natural American Spirit, Seven Stars, Pianissimo, Peace, HOPE, and other brand names.
See Also: Asset Allocation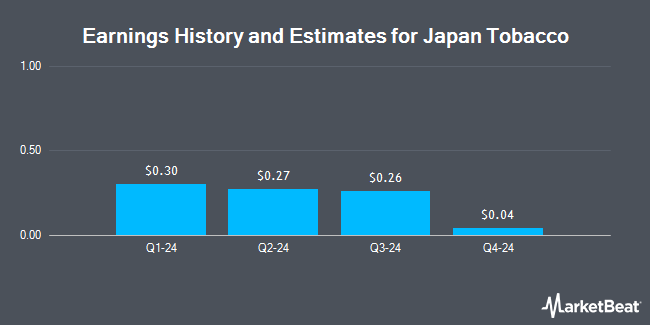 Receive News & Ratings for JAPAN TOB INC/ADR Daily - Enter your email address below to receive a concise daily summary of the latest news and analysts' ratings for JAPAN TOB INC/ADR and related companies with MarketBeat.com's FREE daily email newsletter.