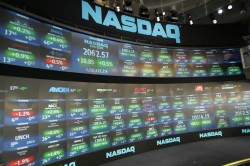 Xpediator PLC (LON:XPD) insider Michael Alexander Borrelli bought 20,000 shares of the company's stock in a transaction on Thursday, October 18th. The shares were acquired at an average price of GBX 55 ($0.72) per share, for a total transaction of £11,000 ($14,373.45).
LON XPD opened at GBX 54 ($0.71) on Friday. Xpediator PLC has a 12-month low of GBX 27 ($0.35) and a 12-month high of GBX 50 ($0.65).
The firm also recently announced a dividend, which will be paid on Friday, October 26th. Shareholders of record on Thursday, October 4th will be given a dividend of GBX 0.42 ($0.01) per share. This represents a yield of 0.6%. The ex-dividend date of this dividend is Thursday, October 4th.
Xpediator Company Profile
Xpediator Plc, together with its subsidiaries, provides freight management services in the United Kingdom and Europe. It operates in three segments: Freight Forwarding, Affinity, and Logistics & Warehousing. The company offers freight forwarding and courier solutions by road, ocean, and air, as well as stock management, short and long term warehousing, and on site packing services; and B2B freight forwarding and courier services to the e-commerce, food, procurement, and oil industries.
Read More: Understanding each part of a balance sheet
Receive News & Ratings for Xpediator Daily - Enter your email address below to receive a concise daily summary of the latest news and analysts' ratings for Xpediator and related companies with MarketBeat.com's FREE daily email newsletter.