Zacks Investment Research upgraded shares of Meredith (NYSE:MDP) from a strong sell rating to a hold rating in a research note issued to investors on Friday morning.
According to Zacks, "Shares of Meredith have underperformed the industry in the past six months. Soft print media trends and stiff competition act as deterrent. The decline in adjusted EBITDA margin is also a woe. Further, the company delivered dismal bottom-line performance with an earnings miss in fourth-quarter fiscal 2018 after four straight quarters of beat. The bottom line declined year over year as well. However, the company's top line came almost in line with the consensus estimate and surged 76.9% on a year-over-year basis on the back of strong segment performance. Meredith's strategic initiatives in digital space and brand licensing activities bodes well. Additionally, the company acquired Time Inc. to create a leading media company. Meredith expects to generate cost synergies of more than $500 million annually in the first two years of the combined firm's operations. Also, the company is offloading non-core brands."
Several other research analysts also recently weighed in on the company. ValuEngine downgraded Meredith from a sell rating to a strong sell rating in a research note on Friday, August 10th. Jefferies Financial Group reaffirmed a buy rating and set a $57.00 target price on shares of Meredith in a research note on Monday, August 13th. Finally, Citigroup upped their target price on Meredith from $56.00 to $61.00 and gave the stock a buy rating in a research note on Tuesday, September 11th. Two investment analysts have rated the stock with a hold rating and six have issued a buy rating to the stock. Meredith has a consensus rating of Buy and an average target price of $66.20.
Shares of
MDP stock
traded up $0.65 during trading hours on Friday, hitting $51.96. 523,000 shares of the company's stock were exchanged, compared to its average volume of 537,691. The company has a debt-to-equity ratio of 2.84, a current ratio of 1.66 and a quick ratio of 1.63. The company has a market cap of $2.29 billion, a price-to-earnings ratio of 20.46, a PEG ratio of 0.41 and a beta of 1.46. Meredith has a fifty-two week low of $47.30 and a fifty-two week high of $72.25.
Meredith (NYSE:MDP) last announced its earnings results on Friday, August 10th. The company reported ($0.06) earnings per share for the quarter, missing the Thomson Reuters' consensus estimate of $0.87 by ($0.93). The business had revenue of $788.10 million for the quarter, compared to analyst estimates of $787.26 million. Meredith had a return on equity of 13.49% and a net margin of 4.43%. The company's quarterly revenue was up 76.9% compared to the same quarter last year. During the same period in the previous year, the company earned $1.07 earnings per share. Analysts anticipate that Meredith will post 4.54 earnings per share for the current fiscal year.
The firm also recently announced a quarterly dividend, which was paid on Friday, September 14th. Stockholders of record on Friday, August 31st were paid a dividend of $0.545 per share. This represents a $2.18 annualized dividend and a dividend yield of 4.20%. The ex-dividend date was Thursday, August 30th. Meredith's payout ratio is 85.83%.
Several institutional investors and hedge funds have recently modified their holdings of MDP. Verition Fund Management LLC purchased a new stake in shares of Meredith during the first quarter worth approximately $228,000. Crossmark Global Holdings Inc. purchased a new stake in shares of Meredith during the second quarter worth approximately $229,000. State of Alaska Department of Revenue purchased a new stake in shares of Meredith during the third quarter worth approximately $257,000. Janney Montgomery Scott LLC purchased a new stake in shares of Meredith during the second quarter worth approximately $276,000. Finally, Ausdal Financial Partners Inc. increased its position in shares of Meredith by 29.2% during the second quarter. Ausdal Financial Partners Inc. now owns 5,765 shares of the company's stock worth $294,000 after purchasing an additional 1,303 shares in the last quarter. Hedge funds and other institutional investors own 95.24% of the company's stock.
About Meredith
Meredith Corporation operates as a diversified media company in the United States, Europe, and Asia. It operates in two segments, National Media and Local Media. The National Media segment offers national consumer media brands through various media platforms, including print magazines, digital and mobile media, brand licensing activities, database-related activities, affinity marketing, and business-to-business marketing products and services.
Featured Article: Price to Earnings Ratio (PE) Basics

Get a free copy of the Zacks research report on Meredith (MDP)
For more information about research offerings from Zacks Investment Research, visit Zacks.com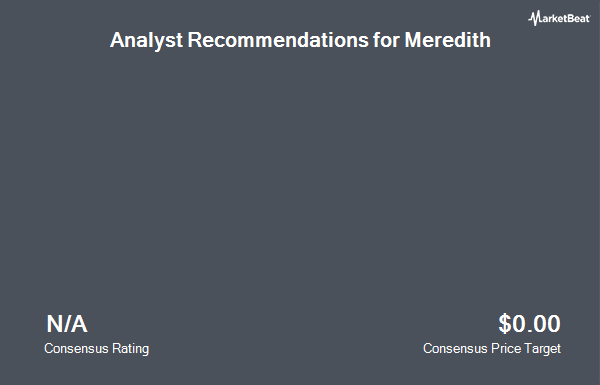 Receive News & Ratings for Meredith Daily - Enter your email address below to receive a concise daily summary of the latest news and analysts' ratings for Meredith and related companies with MarketBeat.com's FREE daily email newsletter.