Royal Dutch Shell (NYSE:RDS.A) was downgraded by Zacks Investment Research from a "buy" rating to a "hold" rating in a research report issued on Tuesday.
According to Zacks, "Buy-rated Royal Dutch Shell's shares have outperformed the Zacks Oil & Gas International Integrated industry over the last year (+39.7% vs. +23.3%). The performance was supported by the company's excellent earnings surprise history, having surpassed expectations in each of the trailing four quarters. Shell started 2018 on a solid note with the integrated behemoth's first-quarter upstream unit profit soaring from the year-ago period thanks to steady commodity price recovery. Shell's integrated gas business – consisting of the BG Group activities – also impressed on the back of pricing and production gains. However, with cash flow stalling and production going down, the near-to-medium term outlook remains cloudy. Hence, we advise investors to wait for a better entry point before buying shares."
A number of other equities analysts have also weighed in on RDS.A. Cowen upped their target price on Royal Dutch Shell from $66.00 to $80.00 and gave the stock an "outperform" rating in a research report on Monday, January 22nd. ValuEngine raised Royal Dutch Shell from a "hold" rating to a "buy" rating in a research report on Friday, February 2nd. Societe Generale raised Royal Dutch Shell from a "hold" rating to a "buy" rating in a research report on Friday, March 23rd. Scotiabank reaffirmed a "buy" rating and set a $69.00 target price on shares of Royal Dutch Shell in a research report on Monday, April 9th. Finally, Jefferies Group reaffirmed a "buy" rating and set a $84.10 target price on shares of Royal Dutch Shell in a research report on Thursday, April 19th. Two research analysts have rated the stock with a hold rating, nine have issued a buy rating and one has issued a strong buy rating to the stock. The company has an average rating of "Buy" and an average target price of $75.02.
RDS.A
traded down $0.93 during trading on Tuesday, hitting $68.97. The company's stock had a trading volume of 1,312,887 shares, compared to its average volume of 3,617,941. Royal Dutch Shell has a twelve month low of $51.85 and a twelve month high of $72.43. The company has a debt-to-equity ratio of 0.37, a quick ratio of 0.90 and a current ratio of 1.20. The firm has a market cap of $290,990.66, a PE ratio of 17.96, a price-to-earnings-growth ratio of 1.27 and a beta of 1.10.
Royal Dutch Shell (NYSE:RDS.A) last issued its quarterly earnings results on Thursday, April 26th. The energy company reported $1.28 earnings per share (EPS) for the quarter, beating the Thomson Reuters' consensus estimate of $1.08 by $0.20. Royal Dutch Shell had a return on equity of 8.73% and a net margin of 4.72%. The firm had revenue of $89.24 billion for the quarter, compared to analyst estimates of $81.02 billion. During the same period in the previous year, the firm earned $0.46 earnings per share. The company's revenue was up 24.3% compared to the same quarter last year. research analysts predict that Royal Dutch Shell will post 4.98 EPS for the current fiscal year.
About Royal Dutch Shell
The Royal Dutch Shell plc explores for crude oil and natural gas around the world, both in conventional fields and from sources, such as tight rock, shale and coal formations. The Company's segments include Integrated Gas, Upstream, Downstream and Corporate. The Integrated Gas segment is engaged in the liquefaction and transportation of gas and the conversion of natural gas to liquids to provide fuels and other products, as well as projects with an integrated activity, ranging from producing to commercializing gas.
Get a free copy of the Zacks research report on Royal Dutch Shell (RDS.A)
For more information about research offerings from Zacks Investment Research, visit Zacks.com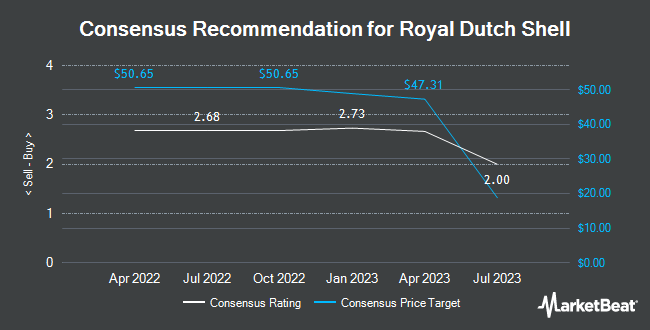 Receive News & Ratings for Royal Dutch Shell Daily - Enter your email address below to receive a concise daily summary of the latest news and analysts' ratings for Royal Dutch Shell and related companies with MarketBeat.com's FREE daily email newsletter.