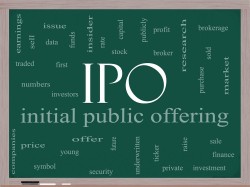 iQIYI (IQ) plans to raise $2.3 billion in an initial public offering (IPO) on Thursday, March 29th, IPO Scoop reports. The company plans to issue 125,000,000 shares at a price of $17.00-$19.00 per share.
In the last twelve months, iQIYI generated $2.7 billion in revenue and $149.5 million in net income. iQIYI has a market cap of $5.4 billion.
Goldman Sachs (Asia), Credit Suisse and BofA Merrill Lynch served as the underwriters for the IPO and China Renaissance, Citigroup and UBS Investment Bank were co-managers.
iQIYI provided the following description of their company for its IPO: " iQIYI is an innovative market-leading online entertainment service in China. We are at the forefront of the entertainment industry in China. Our corporate DNA combines creative talent with technology, fostering an environment for the continuous innovation and production of blockbuster content. Our platform features highly popular original content, as well as a comprehensive selection of professionally-produced and partner-generated content. Through our curated premium content, we attract a massive user base with tremendous user engagement, and generate significant monetization opportunities.We are one of the largest internet companies in China in terms of user base. ".
iQIYI was founded in 2010 and has 6014 employees. The company is located at 9/F, iQIYI Innovation Building, No. 2 Haidian North First Street, Haidian District, Beijing, 100080, People's Republic of China and can be reached via phone at +86 10 6267 7171 or on the web at http://www.iqiyi.com.
Receive News & Ratings for iQIYI Daily - Enter your email address below to receive a concise daily summary of the latest news and analysts' ratings for iQIYI and related companies with MarketBeat.com's FREE daily email newsletter.