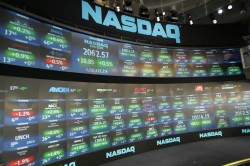 Fondren Management LP purchased a new stake in shares of PrimeEnergy Co. (NASDAQ:PNRG) during the fourth quarter, according to its most recent disclosure with the Securities and Exchange Commission (SEC). The fund purchased 5,778 shares of the oil and natural gas company's stock, valued at approximately $298,000.
Separately, Northern Trust Corp lifted its position in shares of PrimeEnergy by 6.8% during the second quarter. Northern Trust Corp now owns 10,624 shares of the oil and natural gas company's stock worth $500,000 after purchasing an additional 678 shares in the last quarter. Institutional investors own 2.33% of the company's stock.
PrimeEnergy Co. (PNRG) opened at $50.11 on Wednesday. PrimeEnergy Co. has a 12-month low of $39.80 and a 12-month high of $56.20. The company has a debt-to-equity ratio of 0.61, a quick ratio of 0.72 and a current ratio of 0.72. The company has a market cap of $109.32, a price-to-earnings ratio of 9.03 and a beta of -0.01.
WARNING: "Fondren Management LP Invests $298,000 in PrimeEnergy Co. (PNRG) Stock" was originally posted by Ticker Report and is owned by of Ticker Report. If you are accessing this piece on another publication, it was stolen and republished in violation of United States & international trademark and copyright laws. The correct version of this piece can be read at https://www.tickerreport.com/banking-finance/3262223/fondren-management-lp-invests-298000-in-primeenergy-co-pnrg-stock.html.
PrimeEnergy Profile
PrimeEnergy Corporation is an independent oil and natural gas company. The Company is engaged in acquiring, developing and producing oil and natural gas. It owns producing and non-producing properties located in Texas, Oklahoma, West Virginia, New Mexico, Colorado and Louisiana. All of the Company's oil and gas properties and interests are located in the United States.
Want to see what other hedge funds are holding PNRG? Visit HoldingsChannel.com to get the latest 13F filings and insider trades for PrimeEnergy Co. (NASDAQ:PNRG).
Receive News & Ratings for PrimeEnergy Daily - Enter your email address below to receive a concise daily summary of the latest news and analysts' ratings for PrimeEnergy and related companies with MarketBeat.com's FREE daily email newsletter.