Shares of AES Corp (NYSE:AES) have received an average recommendation of "Hold" from the nine ratings firms that are currently covering the firm, MarketBeat Ratings reports. Two equities research analysts have rated the stock with a sell recommendation, four have assigned a hold recommendation and three have issued a buy recommendation on the company. The average 1-year target price among brokers that have issued ratings on the stock in the last year is $12.50.
Several research analysts have recently commented on AES shares. SunTrust Banks set a $14.00 price target on shares of AES and gave the stock a "buy" rating in a research note on Monday, February 12th. ValuEngine lowered shares of AES from a "buy" rating to a "hold" rating in a research note on Thursday, February 8th. UBS Group started coverage on shares of AES in a research note on Friday, February 2nd. They set a "neutral" rating and a $12.00 price target on the stock. Finally, Morgan Stanley dropped their price target on shares of AES from $14.00 to $12.50 and set an "equal weight" rating on the stock in a research note on Wednesday, December 13th.
A number of large investors have recently bought and sold shares of the stock. Trilogy Capital Inc. bought a new position in shares of AES during the 4th quarter worth about $135,000. Cypress Capital Group acquired a new stake in AES in the 3rd quarter valued at about $138,000. Beacon Investment Advisory Services Inc. acquired a new stake in AES in the 4th quarter valued at about $142,000. Buckley Wealth Management LLC acquired a new stake in AES in the 4th quarter valued at about $163,000. Finally, Koch Industries Inc. acquired a new stake in AES in the 4th quarter valued at about $186,000. Institutional investors and hedge funds own 93.45% of the company's stock.
Shares of AES (
AES
) remained flat at $$10.67 on Friday. The company's stock had a trading volume of 1,935,684 shares, compared to its average volume of 9,704,207. AES has a 1-year low of $9.86 and a 1-year high of $12.05. The company has a market cap of $7,093.69, a price-to-earnings ratio of -6.08, a price-to-earnings-growth ratio of 1.12 and a beta of 1.26. The company has a debt-to-equity ratio of 3.67, a quick ratio of 0.97 and a current ratio of 1.06.
AES (NYSE:AES) last announced its quarterly earnings results on Tuesday, February 27th. The utilities provider reported $0.43 EPS for the quarter, topping the Thomson Reuters' consensus estimate of $0.32 by $0.11. AES had a negative net margin of 8.77% and a positive return on equity of 16.52%. The company had revenue of $2.64 billion for the quarter, compared to analyst estimates of $3.47 billion. During the same quarter in the prior year, the business posted $0.30 EPS. AES's quarterly revenue was down .6% on a year-over-year basis. equities research analysts forecast that AES will post 1.18 EPS for the current fiscal year.
COPYRIGHT VIOLATION WARNING: This article was originally reported by Ticker Report and is the sole property of of Ticker Report. If you are accessing this article on another website, it was illegally copied and reposted in violation of United States and international trademark and copyright law. The legal version of this article can be read at https://www.tickerreport.com/banking-finance/3261679/brokerages-set-aes-corp-aes-pt-at-12-50.html.
AES Company Profile
The AES Corporation is a holding company. The Company, through its subsidiaries and affiliates, operates a diversified portfolio of electricity generation and distribution businesses. It is organized into six strategic business units (SBUs): the United States; Andes; Brazil; Mexico, Central America and the Caribbean (MCAC); Europe, and Asia.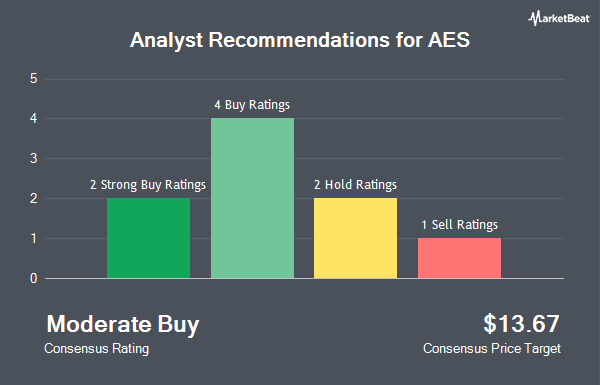 Receive News & Ratings for AES Daily - Enter your email address below to receive a concise daily summary of the latest news and analysts' ratings for AES and related companies with MarketBeat.com's FREE daily email newsletter.