Zacks Investment Research downgraded shares of DDR (NYSE:DDR) from a hold rating to a sell rating in a report issued on Friday.
According to Zacks, "Shares of DDR Corp. underperformed the industry it belongs to in the past six months. Further, the Zacks Consensus Estimate for 2018 funds from operations (FFO) per share was revised downward in a month's time. Notably, in December 2017, DDR announced the decision of its board of directors to spin-off a portfolio of 50 assets into a separate public-traded REIT to be named Retail Value Inc. (RVI). This move will help the company streamline its portfolio and focus on core markets. However, the choppy retail real estate environment is anticipated to limit demand for space in the near term, thanks to the shift in customers' shopping preferences toward online purchases. Also, aggressive asset disposition is expected to have a dilutive effect on earnings. Interest rate hike adds to its woes."
A number of other research analysts have also recently commented on DDR. Stifel Nicolaus started coverage on DDR in a report on Thursday, November 30th. They issued a buy rating and a $8.25 price target on the stock. Morgan Stanley reissued an equal weight rating and issued a $8.25 price target on shares of DDR in a report on Thursday, December 14th. Citigroup reissued a buy rating on shares of DDR in a report on Friday, December 15th. Raymond James Financial reissued a buy rating on shares of DDR in a report on Friday, December 15th. Finally, Boenning Scattergood reissued a sell rating on shares of DDR in a report on Monday, December 18th. Three research analysts have rated the stock with a sell rating, eleven have issued a hold rating and five have issued a buy rating to the company. The stock currently has an average rating of Hold and a consensus price target of $9.65.
DDR (
NYSE DDR
) opened at $7.55 on Friday. The company has a quick ratio of 0.82, a current ratio of 0.82 and a debt-to-equity ratio of 1.62. DDR has a twelve month low of $6.77 and a twelve month high of $13.30. The company has a market capitalization of $2,780.00, a P/E ratio of -6.40, a P/E/G ratio of 1.53 and a beta of 0.61.
DDR (NYSE:DDR) last posted its quarterly earnings results on Thursday, February 15th. The real estate investment trust reported $0.28 EPS for the quarter, topping the Zacks' consensus estimate of $0.26 by $0.02. DDR had a negative return on equity of 5.56% and a negative net margin of 27.22%. The company had revenue of $209.43 million for the quarter, compared to analysts' expectations of $205.20 million. During the same period in the previous year, the firm earned $0.30 EPS. The firm's revenue was down 9.8% compared to the same quarter last year. analysts anticipate that DDR will post 0.98 earnings per share for the current year.
The company also recently disclosed a quarterly dividend, which will be paid on Tuesday, April 3rd. Shareholders of record on Friday, March 16th will be paid a $0.19 dividend. This represents a $0.76 dividend on an annualized basis and a yield of 10.07%. The ex-dividend date is Thursday, March 15th. DDR's payout ratio is -64.41%.
In other news, Director Alexander Otto acquired 1,351,558 shares of DDR stock in a transaction on Monday, February 26th. The shares were acquired at an average price of $7.81 per share, with a total value of $10,555,667.98. Following the purchase, the director now directly owns 48,963,634 shares in the company, valued at approximately $382,405,981.54. The transaction was disclosed in a legal filing with the SEC, which is available through the SEC website. Insiders own 16.10% of the company's stock.
A number of large investors have recently added to or reduced their stakes in the business. Xact Kapitalforvaltning AB bought a new stake in DDR in the 4th quarter worth approximately $262,000. Brookfield Asset Management Inc. increased its stake in DDR by 24.7% in the 4th quarter. Brookfield Asset Management Inc. now owns 12,769,670 shares of the real estate investment trust's stock worth $114,416,000 after acquiring an additional 2,532,900 shares during the last quarter. Jane Street Group LLC bought a new stake in DDR in the 4th quarter worth approximately $1,729,000. Verition Fund Management LLC bought a new position in shares of DDR during the 4th quarter valued at approximately $119,000. Finally, LPL Financial LLC increased its position in shares of DDR by 239.8% during the 4th quarter. LPL Financial LLC now owns 52,146 shares of the real estate investment trust's stock valued at $467,000 after purchasing an additional 36,802 shares during the last quarter. 81.82% of the stock is currently owned by institutional investors and hedge funds.
COPYRIGHT VIOLATION NOTICE: This article was originally published by Ticker Report and is the property of of Ticker Report. If you are reading this article on another publication, it was illegally stolen and republished in violation of United States & international copyright and trademark law. The correct version of this article can be read at https://www.tickerreport.com/banking-finance/3258652/ddr-ddr-rating-lowered-to-sell-at-zacks-investment-research.html.
About DDR
DDR Corp. is a self-administered and self-managed real estate investment trust. It operates through two segments: shopping centers and loan investments. It is in the business of acquiring, owning, developing, redeveloping, expanding, leasing and managing shopping centers. As of December 31, 2016, it owned and managed approximately 106 million total square feet of gross leasable area (GLA).
Get a free copy of the Zacks research report on DDR (DDR)
For more information about research offerings from Zacks Investment Research, visit Zacks.com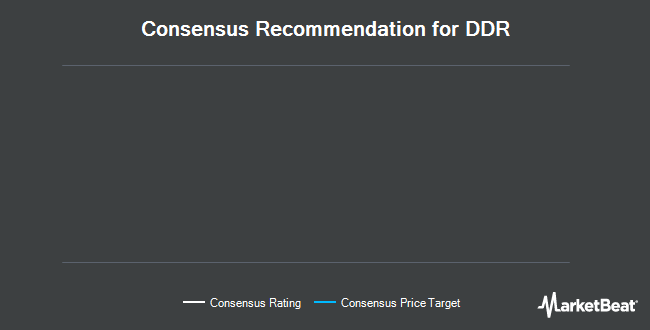 Receive News & Ratings for DDR Daily - Enter your email address below to receive a concise daily summary of the latest news and analysts' ratings for DDR and related companies with MarketBeat.com's FREE daily email newsletter.