Canadian Western Bank (TSE:CWB) had its target price cut by Royal Bank of Canada from C$40.00 to C$39.00 in a research report report published on Friday morning. They currently have an outperform rating on the stock.
A number of other equities analysts have also recently issued reports on CWB. CIBC boosted their price objective on Canadian Western Bank from C$37.00 to C$42.00 in a report on Monday, November 13th. Barclays boosted their price objective on Canadian Western Bank from C$31.00 to C$33.00 in a report on Tuesday, November 14th. BMO Capital Markets set a C$33.00 price objective on Canadian Western Bank and gave the company a market perform rating in a report on Thursday, November 16th. Eight Capital restated a buy rating and set a C$41.00 price objective on shares of Canadian Western Bank in a report on Wednesday, December 6th. Finally, Scotiabank boosted their price objective on Canadian Western Bank from C$42.00 to C$43.00 and gave the company an outperform rating in a report on Friday, December 8th. One investment analyst has rated the stock with a sell rating, four have assigned a hold rating and six have given a buy rating to the company's stock. The company has an average rating of Hold and an average target price of C$38.85.
Canadian Western Bank (CWB) opened at C$35.53 on Friday. The firm has a market capitalization of $3,150.00, a P/E ratio of 13.93 and a beta of 1.03. Canadian Western Bank has a 12-month low of C$23.68 and a 12-month high of C$40.83.
The company also recently announced a quarterly dividend, which will be paid on Friday, March 30th. Shareholders of record on Friday, March 16th will be issued a $0.25 dividend. This represents a $1.00 annualized dividend and a dividend yield of 2.81%. This is a boost from Canadian Western Bank's previous quarterly dividend of $0.24. The ex-dividend date is Thursday, March 15th. Canadian Western Bank's dividend payout ratio is currently 36.47%.
In other Canadian Western Bank news, insider Allen David Stephen sold 1,450 shares of the company's stock in a transaction on Friday, January 19th. The stock was sold at an average price of C$40.52, for a total value of C$58,754.00. Also, Director Margaret Jean Mulligan bought 800 shares of the stock in a transaction on Monday, March 12th. The stock was purchased at an average price of C$35.72 per share, with a total value of C$28,576.00. Insiders sold a total of 3,738 shares of company stock valued at $98,754 over the last quarter.
WARNING: "Canadian Western Bank (CWB) PT Lowered to C$39.00" was posted by Ticker Report and is owned by of Ticker Report. If you are viewing this story on another website, it was copied illegally and republished in violation of United States & international copyright and trademark law. The correct version of this story can be accessed at https://www.tickerreport.com/banking-finance/3258318/canadian-western-bank-cwb-pt-lowered-to-c39-00.html.
About Canadian Western Bank
Canadian Western Bank (CWB) is a Canada-based bank engaged in offering a range of financial services. The Bank specializes in mid-market commercial banking, real estate and construction financing, and equipment financing and leasing. The Bank offers financing solutions through CWB Equipment Financing, National Leasing, CWB Maxium Financial, CWB Franchise Finance and CWB Optimum Mortgage, trust services through Canadian Western Trust and wealth advisory services through CWB Wealth Management.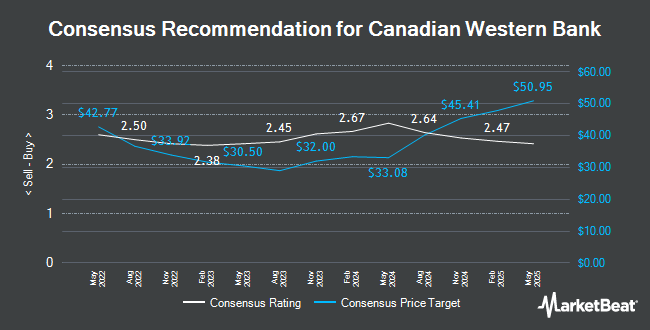 Receive News & Ratings for Canadian Western Bank Daily - Enter your email address below to receive a concise daily summary of the latest news and analysts' ratings for Canadian Western Bank and related companies with MarketBeat.com's FREE daily email newsletter.