Weyco Group, Inc. (NASDAQ:WEYS) declared a quarterly dividend on Tuesday, March 6th, Zacks reports. Investors of record on Friday, March 16th will be paid a dividend of 0.22 per share by the textile maker on Friday, March 30th. This represents a $0.88 dividend on an annualized basis and a yield of 2.67%. The ex-dividend date is Thursday, March 15th.
Shares of Weyco Group (NASDAQ WEYS) traded up $1.14 during trading hours on Friday, reaching $33.00. The company had a trading volume of 18,186 shares, compared to its average volume of 13,904. Weyco Group has a 52 week low of $23.75 and a 52 week high of $33.78. The stock has a market cap of $324.72, a P/E ratio of 20.63 and a beta of 0.71.
In other Weyco Group news, VP Judy Anderson sold 2,445 shares of Weyco Group stock in a transaction that occurred on Wednesday, December 13th. The stock was sold at an average price of $28.78, for a total transaction of $70,367.10. Following the sale, the vice president now directly owns 6,250 shares of the company's stock, valued at approximately $179,875. The transaction was disclosed in a legal filing with the SEC, which is accessible through this hyperlink. Insiders own 42.81% of the company's stock.
A number of research analysts recently issued reports on WEYS shares. TheStreet upgraded Weyco Group from a "c+" rating to a "b-" rating in a report on Thursday, November 16th. BidaskClub upgraded Weyco Group from a "hold" rating to a "buy" rating in a report on Tuesday, January 16th.
ILLEGAL ACTIVITY WARNING: This article was posted by Ticker Report and is owned by of Ticker Report. If you are reading this article on another site, it was illegally stolen and republished in violation of US and international copyright laws. The legal version of this article can be viewed at https://www.tickerreport.com/banking-finance/3253121/weyco-group-inc-weys-to-issue-0-22-quarterly-dividend.html.
Weyco Group Company Profile
Weyco Group, Inc is engaged in the design and distribution of footwear. The Company designs and markets footwear for men, women and children. The Company operates through two segments: the North American wholesale segment (wholesale) and the North American retail segment (retail). The Company also has other wholesale and retail businesses overseas, which include its businesses in Australia, South Africa and Asia Pacific (collectively known as Florsheim Australia), and its wholesale and retail businesses in Europe (Florsheim Europe).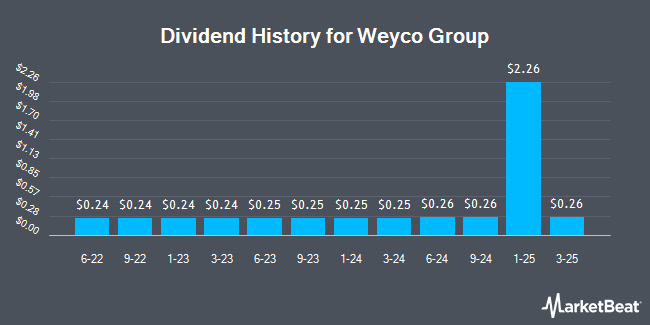 Receive News & Ratings for Weyco Group Daily - Enter your email address below to receive a concise daily summary of the latest news and analysts' ratings for Weyco Group and related companies with MarketBeat.com's FREE daily email newsletter.