DiamondRock Hospitality (NYSE:DRH) issued an update on its FY19 earnings guidance on Thursday morning. The company provided earnings per share guidance of $0.99-1.03 for the period, compared to the Thomson Reuters consensus earnings per share estimate of $0.99.
Several research firms have recently weighed in on DRH. TheStreet upgraded DiamondRock Hospitality from a c+ rating to a b- rating in a report on Friday, December 29th. Boenning Scattergood restated a hold rating on shares of DiamondRock Hospitality in a report on Wednesday. Morgan Stanley reduced their price target on DiamondRock Hospitality from $11.00 to $10.00 and set an underweight rating on the stock in a report on Wednesday. Robert W. Baird restated a buy rating and set a $12.00 price target on shares of DiamondRock Hospitality in a report on Friday, November 10th. Finally, Evercore ISI upgraded DiamondRock Hospitality from an in-line rating to an outperform rating in a report on Monday, December 4th. Two analysts have rated the stock with a sell rating, four have issued a hold rating and seven have given a buy rating to the company. The company has a consensus rating of Hold and a consensus price target of $11.78.
DiamondRock Hospitality (NYSE DRH) traded down $0.16 during trading hours on Thursday, hitting $10.12. The stock had a trading volume of 2,750,000 shares, compared to its average volume of 1,990,000. The company has a market capitalization of $2,030.00, a PE ratio of 23.53, a P/E/G ratio of 2.09 and a beta of 1.35. The company has a debt-to-equity ratio of 0.51, a quick ratio of 2.41 and a current ratio of 2.35. DiamondRock Hospitality has a 52 week low of $10.04 and a 52 week high of $12.11.
DiamondRock Hospitality (NYSE:DRH) last announced its earnings results on Monday, February 26th. The real estate investment trust reported $0.25 EPS for the quarter, beating the Thomson Reuters' consensus estimate of $0.23 by $0.02. DiamondRock Hospitality had a return on equity of 4.50% and a net margin of 9.93%. The business had revenue of $207.04 million for the quarter, compared to analysts' expectations of $206.36 million. During the same period in the prior year, the business posted $0.24 earnings per share. The firm's revenue was up .2% on a year-over-year basis. equities analysts forecast that DiamondRock Hospitality will post 1 earnings per share for the current fiscal year.
ILLEGAL ACTIVITY WARNING: This article was first published by Ticker Report and is owned by of Ticker Report. If you are reading this article on another website, it was illegally stolen and reposted in violation of international trademark & copyright laws. The legal version of this article can be accessed at https://www.tickerreport.com/banking-finance/3231703/diamondrock-hospitality-drh-updates-fy19-earnings-guidance.html.
DiamondRock Hospitality Company Profile
DiamondRock Hospitality Company is a real estate investment trust (REIT). As of December 31, 2016, the Company owned a portfolio of 26 hotels and resorts that contains 9,472 guest rooms located in 17 different markets in North America and the United States Virgin Islands. Its business is to acquire, own, asset manage and renovate hotel properties in the United States.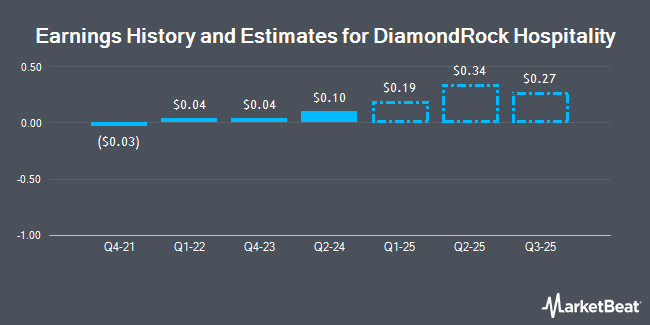 Receive News & Ratings for DiamondRock Hospitality Daily - Enter your email address below to receive a concise daily summary of the latest news and analysts' ratings for DiamondRock Hospitality and related companies with MarketBeat.com's FREE daily email newsletter.