Darling Ingredients (NYSE:DAR) released its earnings results on Tuesday. The company reported $0.10 earnings per share (EPS) for the quarter, topping analysts' consensus estimates of $0.09 by $0.01, Bloomberg Earnings reports. The firm had revenue of $952.55 million for the quarter, compared to analyst estimates of $896.87 million. Darling Ingredients had a return on equity of 2.96% and a net margin of 1.76%.
Shares of Darling Ingredients (NYSE DAR) traded down $1.25 on Thursday, reaching $16.94. The company had a trading volume of 483,344 shares, compared to its average volume of 1,087,371. The stock has a market cap of $2,852.19, a PE ratio of 43.77 and a beta of 1.48. Darling Ingredients has a 1 year low of $13.90 and a 1 year high of $19.50. The company has a debt-to-equity ratio of 0.79, a current ratio of 1.76 and a quick ratio of 1.07.
A number of research analysts recently issued reports on DAR shares. Zacks Investment Research raised Darling Ingredients from a "sell" rating to a "hold" rating in a report on Monday, November 13th. Canaccord Genuity lifted their target price on Darling Ingredients from $18.00 to $20.00 and gave the stock a "buy" rating in a report on Monday, November 6th. TheStreet lowered Darling Ingredients from a "b-" rating to a "c+" rating in a report on Monday, February 12th. Goldman Sachs Group reaffirmed a "neutral" rating on shares of Darling Ingredients in a report on Thursday. Finally, BMO Capital Markets lowered Darling Ingredients from an "outperform" rating to a "market perform" rating in a report on Thursday. They noted that the move was a valuation call. Five research analysts have rated the stock with a hold rating and three have given a buy rating to the company's stock. The company currently has an average rating of "Hold" and a consensus target price of $19.29.
COPYRIGHT VIOLATION WARNING: This news story was first published by Ticker Report and is the property of of Ticker Report. If you are viewing this news story on another publication, it was stolen and reposted in violation of United States & international copyright and trademark law. The legal version of this news story can be accessed at https://www.tickerreport.com/banking-finance/3231513/darling-ingredients-dar-announces-earnings-results-beats-estimates-by-0-01-eps.html.
Darling Ingredients Company Profile
Darling Ingredients Inc (Darling) is a developer and producer of sustainable natural ingredients from edible and inedible bio-nutrients, creating a range of ingredients and customized specialty solutions for customers in the pharmaceutical, food, pet food, feed, industrial, fuel, bioenergy and fertilizer industries.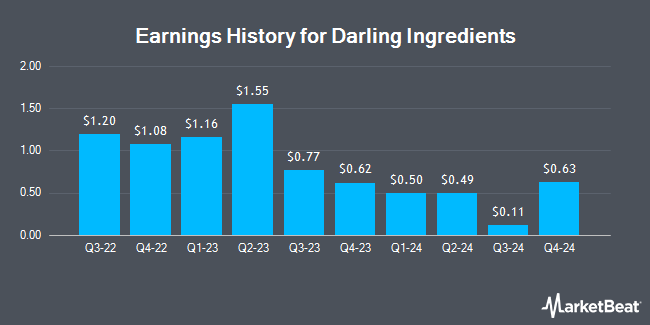 Receive News & Ratings for Darling Ingredients Daily - Enter your email address below to receive a concise daily summary of the latest news and analysts' ratings for Darling Ingredients and related companies with MarketBeat.com's FREE daily email newsletter.