Zacks Investment Research upgraded shares of Guess? (NYSE:GES) from a hold rating to a buy rating in a research note issued to investors on Wednesday morning. Zacks Investment Research currently has $18.00 price target on the stock.
According to Zacks, "Guess? has surpassed the industry in a year, courtesy of its solid earnings susprise history. Evidently, the third quarter of fiscal 2018 marked its third straight earnings beat. During the quarter, the company's performance gained from continued strength in European and Asia business segments. The regions have been depicting robust growth backed by store openings, positive comps and wholesale growth. Driven by such upsides, management raised fiscal 2018 earnings view. Also, management is optimistic about e-commerce business that has been improving steadily. However, Guess? has been facing a tough retail environment in the Americas, due to lower consumer spending. As a result, the company has resorted to store closures in these regions to focus on other prospective areas. Also, the company remains exposed to the unfavorable currency fluctuations. Nevertheless, estimates climbed upward by a notch lately ahead of its earnings release."
A number of other research analysts have also weighed in on GES. B. Riley restated a buy rating on shares of Guess? in a report on Wednesday, November 1st. KeyCorp restated a sector weight rating on shares of Guess? in a report on Tuesday, February 20th. Finally, Cowen restated a hold rating and issued a $17.00 target price on shares of Guess? in a report on Wednesday, November 22nd. One equities research analyst has rated the stock with a sell rating, five have issued a hold rating and five have assigned a buy rating to the company's stock. The stock currently has an average rating of Hold and a consensus price target of $15.10.
Guess? (
NYSE:GES
) opened at $15.70 on Wednesday. Guess? has a fifty-two week low of $9.56 and a fifty-two week high of $19.62. The company has a quick ratio of 1.36, a current ratio of 2.58 and a debt-to-equity ratio of 0.04. The firm has a market capitalization of $1,294.99, a P/E ratio of -394.75, a PEG ratio of 1.02 and a beta of 0.42.
Guess? (NYSE:GES) last posted its earnings results on Tuesday, November 21st. The company reported $0.12 earnings per share for the quarter, beating the Zacks' consensus estimate of $0.11 by $0.01. Guess? had a positive return on equity of 4.35% and a negative net margin of 0.10%. The company had revenue of $554.00 million for the quarter, compared to analyst estimates of $569.75 million. During the same quarter last year, the company earned $0.11 earnings per share. The company's revenue for the quarter was up 3.3% on a year-over-year basis. sell-side analysts forecast that Guess? will post 0.62 EPS for the current fiscal year.
In related news, Director Kay Isaacson-Leibowitz sold 4,000 shares of Guess? stock in a transaction on Wednesday, December 20th. The stock was sold at an average price of $17.73, for a total transaction of $70,920.00. Following the sale, the director now directly owns 38,433 shares in the company, valued at $681,417.09. The sale was disclosed in a filing with the Securities & Exchange Commission, which is accessible through this hyperlink. Company insiders own 29.60% of the company's stock.
A number of institutional investors have recently modified their holdings of GES. Cubist Systematic Strategies LLC bought a new stake in Guess? during the second quarter worth $129,000. Amundi Pioneer Asset Management Inc. bought a new stake in Guess? during the fourth quarter worth $133,000. Old Mutual Global Investors UK Ltd. bought a new stake in Guess? during the fourth quarter worth $157,000. Invictus RG bought a new stake in Guess? during the third quarter worth $256,000. Finally, Hanseatic Management Services Inc. bought a new stake in Guess? during the fourth quarter worth $266,000. Institutional investors and hedge funds own 79.12% of the company's stock.
COPYRIGHT VIOLATION WARNING: "Guess? (GES) Lifted to Buy at Zacks Investment Research" was first reported by Ticker Report and is owned by of Ticker Report. If you are reading this piece on another website, it was illegally stolen and reposted in violation of United States & international copyright & trademark legislation. The original version of this piece can be read at https://www.tickerreport.com/banking-finance/3230999/guess-ges-lifted-to-buy-at-zacks-investment-research.html.
Guess? Company Profile
Guess?, Inc designs, markets, distributes and licenses a lifestyle collections of apparel and accessories for men, women and children. The Company operates through five segments: Americas Retail, Europe, Asia, Americas Wholesale and Licensing. The Americas Retail segment includes the Company's retail and e-commerce operations in North and Central America and its retail operations in South America.
Get a free copy of the Zacks research report on Guess? (GES)
For more information about research offerings from Zacks Investment Research, visit Zacks.com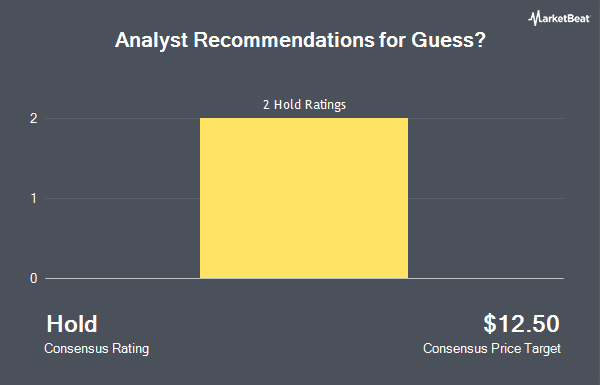 Receive News & Ratings for Guess? Daily - Enter your email address below to receive a concise daily summary of the latest news and analysts' ratings for Guess? and related companies with MarketBeat.com's FREE daily email newsletter.