Francesca's (NASDAQ:FRAN) updated its fourth quarter earnings guidance on Tuesday. The company provided earnings per share (EPS) guidance of $0.18 to $0.19 for the period, compared to the Thomson Reuters consensus estimate of $0.20. The company issued revenue guidance of $138.5 million, compared to the consensus revenue estimate of $137.18 million.
A number of brokerages have weighed in on FRAN. B. Riley reiterated a neutral rating on shares of Francesca's in a report on Wednesday, November 1st. ValuEngine lowered shares of Francesca's from a buy rating to a hold rating in a report on Friday, February 2nd. TheStreet lowered shares of Francesca's from a c rating to a d+ rating in a report on Tuesday, December 5th. BidaskClub upgraded shares of Francesca's from a hold rating to a buy rating in a report on Wednesday, December 20th. Finally, SunTrust Banks set a $8.00 price target on shares of Francesca's and gave the company a buy rating in a report on Friday, January 5th. One investment analyst has rated the stock with a sell rating, seven have given a hold rating and two have issued a buy rating to the stock. The company currently has a consensus rating of Hold and a consensus target price of $10.67.
Francesca's (NASDAQ:FRAN) opened at $5.21 on Thursday. The firm has a market cap of $188.50, a price-to-earnings ratio of 7.34, a P/E/G ratio of 0.68 and a beta of -0.05. Francesca's has a 1-year low of $5.14 and a 1-year high of $17.35.
Francesca's (NASDAQ:FRAN) last posted its earnings results on Tuesday, December 5th. The specialty retailer reported $0.01 earnings per share for the quarter, missing the Thomson Reuters' consensus estimate of $0.04 by ($0.03). The business had revenue of $105.80 million for the quarter, compared to analyst estimates of $106.02 million. Francesca's had a net margin of 5.52% and a return on equity of 23.19%. The business's revenue was down 11.5% compared to the same quarter last year. During the same quarter in the previous year, the firm posted $0.23 EPS. research analysts forecast that Francesca's will post 0.53 earnings per share for the current year.
In other Francesca's news, CEO Steven Paul Lawrence bought 10,000 shares of Francesca's stock in a transaction that occurred on Thursday, January 11th. The shares were acquired at an average price of $5.56 per share, for a total transaction of $55,600.00. The acquisition was disclosed in a legal filing with the SEC, which is available at this link. Insiders own 1.19% of the company's stock.
ILLEGAL ACTIVITY WARNING: This story was first reported by Ticker Report and is owned by of Ticker Report. If you are accessing this story on another domain, it was illegally stolen and republished in violation of United States & international trademark & copyright laws. The original version of this story can be accessed at https://www.tickerreport.com/banking-finance/3230954/francescas-fran-issues-q4-earnings-guidance.html.
Francesca's Company Profile
Francesca's Holdings Corporation is a holding company. The Company is a specialty retailer, which operates a chain of boutiques across the United States. The Company offers a mix of apparel, jewelry, accessories and gifts. As of January 28, 2017, the Company operated 671 boutiques in 48 states and the District of Columbia, and also served its customers through www.francescas.com, its e-commerce Website.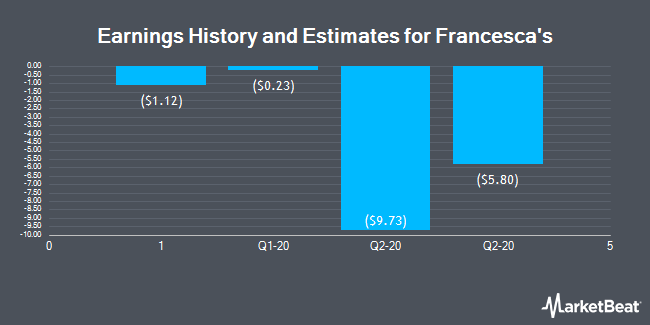 Receive News & Ratings for Francesca's Daily - Enter your email address below to receive a concise daily summary of the latest news and analysts' ratings for Francesca's and related companies with MarketBeat.com's FREE daily email newsletter.