Booking Holdings Inc. (NASDAQ:BKNG) – Research analysts at Oppenheimer increased their Q1 2018 earnings per share (EPS) estimates for Booking in a research report issued on Wednesday. Oppenheimer analyst J. Kelly now expects that the business services provider will post earnings per share of $10.58 for the quarter, up from their prior forecast of $10.29. Oppenheimer has a "Outperform" rating and a $2,100.00 price objective on the stock. Oppenheimer also issued estimates for Booking's FY2018 earnings at $87.42 EPS and FY2019 earnings at $97.46 EPS.
BKNG has been the subject of several other reports. Credit Suisse Group upgraded shares of Booking to a "buy" rating in a research report on Wednesday, February 7th. Zacks Investment Research cut shares of Booking from a "hold" rating to a "sell" rating in a research report on Tuesday, January 2nd. SunTrust Banks restated a "buy" rating on shares of Booking in a research report on Monday. Royal Bank of Canada upped their price target on shares of Booking from $2,050.00 to $2,100.00 and gave the company an "outperform" rating in a research report on Tuesday, November 7th. Finally, JMP Securities upped their price target on shares of Booking from $1,950.00 to $2,100.00 and gave the company an "outperform" rating in a research report on Wednesday, January 24th. Ten analysts have rated the stock with a hold rating, twenty-one have issued a buy rating and one has given a strong buy rating to the company. The stock currently has an average rating of "Buy" and a consensus price target of $2,002.74.
Booking (
NASDAQ:BKNG
) opened at $2,034.04 on Thursday. The company has a debt-to-equity ratio of 0.68, a current ratio of 2.52 and a quick ratio of 2.52. Booking has a 12-month low of $1,630.56 and a 12-month high of $2,087.34. The stock has a market cap of $91,990.00, a P/E ratio of 28.52, a price-to-earnings-growth ratio of 1.40 and a beta of 1.38.
In related news, CEO Gillian Tans sold 122 shares of the stock in a transaction on Friday, December 15th. The shares were sold at an average price of $1,772.94, for a total transaction of $216,298.68. Following the transaction, the chief executive officer now directly owns 5,310 shares of the company's stock, valued at $9,414,311.40. The sale was disclosed in a legal filing with the SEC, which can be accessed through this hyperlink. Over the last three months, insiders have sold 367 shares of company stock worth $679,501. 0.24% of the stock is owned by insiders.
TRADEMARK VIOLATION NOTICE: This piece was reported by Ticker Report and is the property of of Ticker Report. If you are reading this piece on another site, it was illegally copied and republished in violation of United States & international trademark and copyright legislation. The original version of this piece can be viewed at https://www.tickerreport.com/banking-finance/3230184/q1-2018-earnings-forecast-for-booking-holdings-inc-bkng-issued-by-oppenheimer.html.
About Booking
Booking Holdings Inc, formerly The Priceline Group Inc, is a provider of travel and restaurant online reservation and related services. The Company, through its online travel companies (OTCs), connects consumers wishing to make travel reservations with providers of travel services across the world. It offers consumers an array of accommodation reservations (including hotels, bed and breakfasts, hostels, apartments, vacation rentals and other properties) through its Booking.com, priceline.com and agoda.com brands.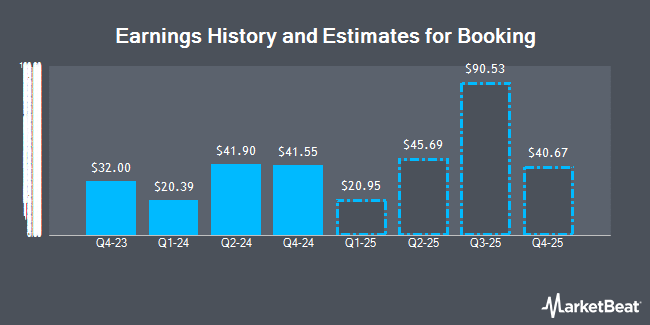 Receive News & Ratings for Booking Daily - Enter your email address below to receive a concise daily summary of the latest news and analysts' ratings for Booking and related companies with MarketBeat.com's FREE daily email newsletter.