TFS Financial Co. (NASDAQ:TFSL) announced a quarterly dividend on Thursday, February 22nd, RTT News reports. Shareholders of record on Monday, March 5th will be given a dividend of 0.17 per share by the bank on Monday, March 19th. This represents a $0.68 annualized dividend and a yield of 4.64%. The ex-dividend date of this dividend is Friday, March 2nd.
Shares of TFS Financial (NASDAQ TFSL) opened at $14.66 on Thursday. TFS Financial has a 1-year low of $14.32 and a 1-year high of $17.82. The company has a debt-to-equity ratio of 2.21, a current ratio of 1.56 and a quick ratio of 1.56. The company has a market cap of $4,194.65, a price-to-earnings ratio of 45.26 and a beta of 0.43.
TFS Financial (NASDAQ:TFSL) last posted its quarterly earnings results on Tuesday, January 30th. The bank reported $0.09 EPS for the quarter, beating the consensus estimate of $0.08 by $0.01. TFS Financial had a net margin of 20.32% and a return on equity of 5.54%. The company had revenue of $69.99 million for the quarter, compared to analyst estimates of $70.60 million. During the same period in the prior year, the company earned $0.07 earnings per share. The firm's revenue was up 2.6% on a year-over-year basis. equities research analysts anticipate that TFS Financial will post 0.37 EPS for the current year.
In other news, Director Ben S. Stefanski III sold 26,600 shares of the stock in a transaction dated Wednesday, February 14th. The shares were sold at an average price of $15.10, for a total transaction of $401,660.00. Following the sale, the director now directly owns 48,700 shares of the company's stock, valued at approximately $735,370. The transaction was disclosed in a filing with the SEC, which is available at
this hyperlink
. Corporate insiders own 1.60% of the company's stock.
A hedge fund recently raised its stake in TFS Financial stock. The Manufacturers Life Insurance Company lifted its position in shares of TFS Financial Co. (NASDAQ:TFSL) by 7.1% during the 2nd quarter, according to the company in its most recent 13F filing with the Securities & Exchange Commission. The institutional investor owned 8,641 shares of the bank's stock after acquiring an additional 574 shares during the quarter. The Manufacturers Life Insurance Company 's holdings in TFS Financial were worth $134,000 as of its most recent SEC filing. Institutional investors own 10.80% of the company's stock.
Several equities research analysts have recently issued reports on TFSL shares. BidaskClub lowered shares of TFS Financial from a "hold" rating to a "sell" rating in a research note on Saturday, December 16th. ValuEngine lowered shares of TFS Financial from a "hold" rating to a "sell" rating in a research note on Sunday, December 31st.
ILLEGAL ACTIVITY WARNING: "TFS Financial Co. (TFSL) Declares $0.17 Quarterly Dividend" was originally posted by Ticker Report and is owned by of Ticker Report. If you are viewing this report on another publication, it was stolen and republished in violation of U.S. and international trademark & copyright laws. The correct version of this report can be read at https://www.tickerreport.com/banking-finance/3230169/tfs-financial-co-tfsl-declares-0-17-quarterly-dividend.html.
About TFS Financial
TFS Financial Corporation is the holding company of Third Federal Savings and Loan Association of Cleveland (Association). The Association is a savings and loan association. The Association's principal business consists of originating and servicing residential real estate mortgage loans and attracting retail savings deposits.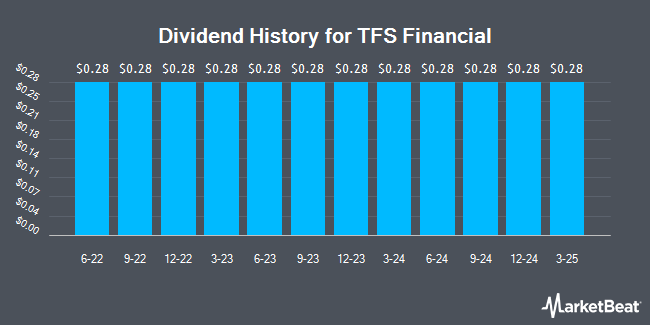 Receive News & Ratings for TFS Financial Daily - Enter your email address below to receive a concise daily summary of the latest news and analysts' ratings for TFS Financial and related companies with MarketBeat.com's FREE daily email newsletter.