Koppers (NYSE:KOP) updated its FY18 earnings guidance on Tuesday. The company provided earnings per share guidance of $3.90-4.10 for the period, compared to the Thomson Reuters consensus earnings per share estimate of $3.89. The company issued revenue guidance of approx $1.70 billion, compared to the consensus revenue estimate of $1.46 billion.
A number of equities analysts have issued reports on the stock. B. Riley set a $60.00 price objective on shares of Koppers and gave the company a buy rating in a research note on Wednesday. ValuEngine cut shares of Koppers from a buy rating to a hold rating in a research note on Friday, February 2nd. Finally, Zacks Investment Research cut shares of Koppers from a strong-buy rating to a sell rating in a research note on Wednesday, January 17th. Three research analysts have rated the stock with a hold rating and four have issued a buy rating to the stock. Koppers has an average rating of Buy and a consensus price target of $49.33.
Shares of Koppers (KOP) traded down $0.15 during mid-day trading on Wednesday, reaching $40.90. 11,497 shares of the company's stock were exchanged, compared to its average volume of 115,184. Koppers has a 1 year low of $33.90 and a 1 year high of $51.80. The company has a market capitalization of $860.94, a PE ratio of 17.77 and a beta of 0.85. The company has a current ratio of 2.02, a quick ratio of 1.13 and a debt-to-equity ratio of 6.08.
Koppers (NYSE:KOP) last announced its quarterly earnings data on Tuesday, February 27th. The specialty chemicals company reported $0.40 earnings per share (EPS) for the quarter, missing analysts' consensus estimates of $0.44 by ($0.04). Koppers had a net margin of 3.54% and a return on equity of 119.06%. The business had revenue of $366.10 million during the quarter, compared to the consensus estimate of $308.05 million. During the same period in the previous year, the business posted $0.40 earnings per share. Koppers's revenue was up 16.9% compared to the same quarter last year. analysts forecast that Koppers will post 3.73 EPS for the current year.
ILLEGAL ACTIVITY WARNING: "Koppers (KOP) Updates FY18 Earnings Guidance" was posted by Ticker Report and is the sole property of of Ticker Report. If you are accessing this story on another website, it was stolen and republished in violation of United States & international copyright & trademark legislation. The correct version of this story can be accessed at https://www.tickerreport.com/banking-finance/3227881/koppers-kop-updates-fy18-earnings-guidance.html.
About Koppers
Koppers Holdings Inc is a global integrated provider of treated wood products, wood treatment chemicals and carbon compounds. The Company operates through three segments: Railroad and Utility Products and Services (RUPS), Carbon Materials and Chemicals (CMC) and Performance Chemicals (PC). The RUPS business sells treated and untreated wood products, rail joint bars and services primarily to the railroad markets.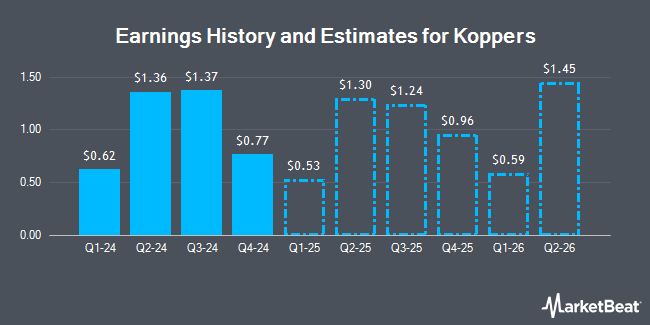 Receive News & Ratings for Koppers Daily - Enter your email address below to receive a concise daily summary of the latest news and analysts' ratings for Koppers and related companies with MarketBeat.com's FREE daily email newsletter.